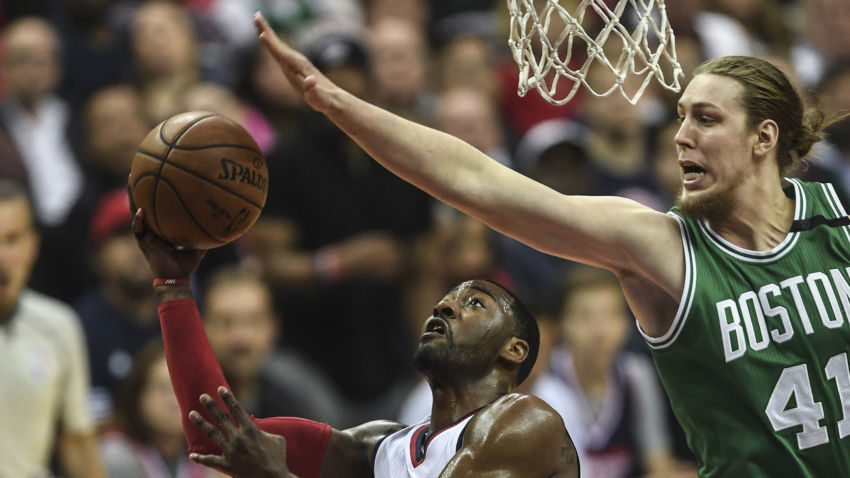 It started unassumingly enough.
Isaiah Thomas brought the ball up the court with the Boston Celtics appearing in control of a Game 7 whose winner would advance to the Eastern Conference Final. A 13-2 run had given them an 89-81 lead over the Washington Wizards with just over 10 minutes remaining in Game 7.
Desperate for stops, Bradley Beal and Jason Smith trapped Thomas after Kelly Olynyk came up near half-court to set a screen. The Wizards were going to force the ball out of Boston's Mr. Fourth Quarter no matter what. Thomas trusted his Torontonian teammate, who scored 12 in the first half, and he rewarded the faith by hurtling towards the rim and drawing the foul on Smith who was late with his recovery.
One spin. One bounce. Perfect form. Swish.
He followed the same rhythm after making his second free-throw, but this time holding the follow through after a calm flick of the wrist, before pointing to the sky. There was something in the air tonight, and whatever it was, it carried Olynyk to the greatest moment of his young career.
Olynyk finished the fourth quarter with 14 points, the game with 26 (he had 26 in his previous three games combined), and did so with a variation of three-pointers, dare-to-dream-shakes, and drives reminiscent of his early days as a point guard with the Canadian junior national team before his growth spurt.
"Kelly was the MVP tonight," Isaiah Thomas said as he sat beside Olynyk at the podium.
https://www.youtube.com/watch?v=gL93RjhIXps
Olynyk led a rampant Celtics bench that piled up 48 points, 15 rebounds, and nine assists to completely outplay a Wizards bench that could only conjure up five points, two rebounds, and one assist in response. It's no surprise that Washington's reserves were given 36 minutes to Boston's 82.
"They (Washington) were putting a lot of attention on him (Isaiah Thomas)—a lot, a lot of attention on him," Olynyk said at the podium. "He was putting us in great spots and we're playing 4-on-3. If they wanna run at you, or try to run at you too hard, you have to be able to make a basketball play. That's what they did. They weren't going to let him make plays at the end, so someone had to do it."
After Smith struggled to provide any sort of resistance, Washington trusted both Markieff Morris and Marcin Gortat to stop the Thomas-Olynyk pick-and-roll, but to no avail . They repeatedly got caught in switches (or didn't respect him), and he made them pay. By the time they started to get out to him, he was so hot it didn't matter.
Morris even resorted to intimidation tactics with 5:43 remaining, purposely bumping him as he picked him up in the front court, but that's when some good ol' Canadian toughness shone through. Olynyk didn't back down, and jawed right back at Morris, before referee Monty McCutchen called both of them for technical fouls to move on with the game.
"If Kelly doesn't go nuts and they throw in a couple more threes, we're not talking about the next step," head coach Bradley Stevens said after the game.
On this night, it's hard to argue that Olynyk didn't take the next step in his career. One of the biggest bench performances in a Game 7, even for the Celtics high standards.