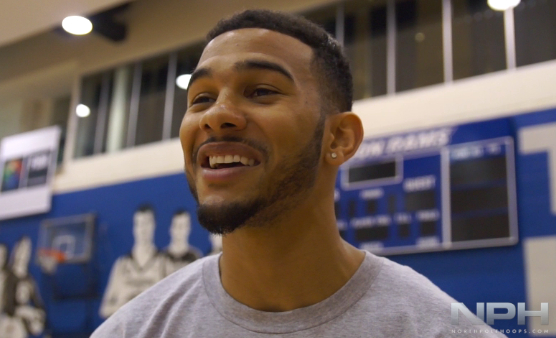 Cory Joseph makes first playoff start as Raptors near the end
TORONTO – Cory Joseph had played in 69 career playoff games before this one. He'd experienced the crushing blow of a seven-game defeat in the NBA Finals, the thrill of redemption a year later, a heartbreaking first-round exit after that, before joining his hometown team, the Toronto Raptors. He helped them reach the Eastern Conference Finals for the first time in their history a year ago, and just their third Conference Semifinal this year.
For all that experience, his 70th playoff game on Friday night was the first time he started. Kyle Lowry, Toronto's commander-in-chief, tried everything he could to recover from a right ankle injury to play, but the team doctors decided to save him from himself.
This isn't the first time the Raptors have had to lean on Joseph in a tough spot this season. On Jan. 18, Dwane Casey gave Lowry the night off against the Brooklyn Nets. Joseph responded with a career-high 33 points. When Lowry was forced to miss time due to a right wrist injury, Joseph stepped up in his absence and helped lead the team to a 14-7 record. As a starter this season, Joseph averaged 12.2 points, five assists, 3.8 rebounds, and a steal per game. So, when his name was called to start Game 3 against the Cleveland Cavaliers, Joseph was ready.
He went through his usual pre-game routine, finishing off with three-pointers around the world that have helped him shoot 35.6 percent from beyond the arc this season after shooting just 27.3 percent a year ago.
"I prepare for each game the same way," Joseph said before the game, when Lowry's status was still uncertain. "Whether he plays or not, I'll be ready."
Matched up against Kyrie Irving, he blocked him from behind after coming around a screen set by Tristan Thompson. It wouldn't be the last time he contested Irving. Joseph picked him up full-court, half-court, went under screens and over screens, even attacking him off the dribble on the other end. Irving finished the night 7-for-21 from the field, and collected only four assists after racking up 10 and 11 in his two previous games. Joseph finished with four points and six assists himself, but his primary job was done as well as could be hoped.
"The key to the game was Cory Joseph," Toronto head coach Dwane Casey said post-game. "Him handling the pick-and-rolls—for the most part—when the game was meaningful. I thought we took the three-point ball out and I thought the key was Cory. He did an excellent job of getting to the basketball."
Cleveland had attempted 34 and 33 three-pointers in Games 1 and 2 (making 14 and 18), and the Raptors set the tone early by limiting them to just three 3-point attempts in the first quarter.  They held the Cavs to just 15 three-point attempts over the first 34:30 of the game and that focus on the perimeter was instrumental in not only building a halftime lead, but giving themselves a puncher's chance heading into the fourth quarter.
Another reason was DeMar DeRozan, who bounced back from his lowest ever point total in Game 2 to pour in a playoff career-high 37, 36 of which came in the first three quarters. What hindered the Raptors most was taking on the personality of the team's best scorer, struggling to hit anything from the outside.
The Raptors started 0-for-12 from three, finished 2-for-18, and though they remained close for three quarters, their long-distance shooting was the difference in building a healthy lead that could have aided them later. Joseph himself was guilty of four of those misses.
"We had good looks, couldn't make no shots," Joseph said after the game. "I didn't make no shots, we spent a lot of energy on the defensive end and, I don't know, legs were gone or something."
The absence of the cushion those threes could have provided was felt most at the beginning of the fourth, when the Raptors trailed 79-77 and Casey gave Joseph and DeRozan 1:52 of game time rest. The Cavaliers accounted for eight of the 10 points scored in that span and never looked back. Joseph and DeRozan were reinserted after that spurt, but the hemorrhaging was too much to overcome. It was eventually a 20-3 run for the Cavaliers, with their outside shooting and defence turning on a switch that many questioned Cleveland had coming into this postseason. Despite the relatively lower attempts for Cleveland, a 39-6 advantage from beyond the arc and a 49-25 margin on the glass was never going to work in favour of the Raptors in the long haul.
Toronto will live to fight for one more day, but without Lowry, that's likely all there will be.