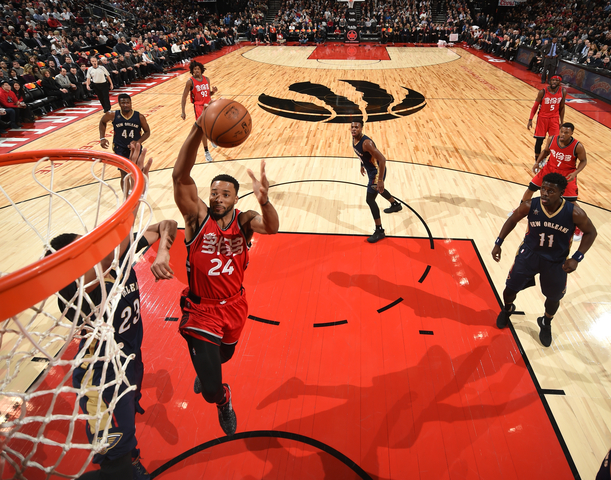 Powell dunks, Lowry serves up OT dagger
TORONTO – Tied at 106 with 29.4 left in OT, Kyle Lowry knocked down a long fading two and ended up walking three rows back into the crowd. Final score: Raptors 108, Pelicans 106.
His 33rd points of the night led all scorers, and it was his third straight game scoring 30+ points.
https://www.youtube.com/watch?v=DlN40K-0vsw
"It's my job. It's my job. The way my teammates count on me and it's just what I do. I get paid to play basketball for a living and I do it to the best of my abilities and I can take the pressure and I can handle it. I enjoy it."
Lowry also racked up a game-high 10 assists for his eighth double-double of the season.
Jonas Valanciunas finished with 20 points and 12 rebounds and forced the best centre in the league Anthony Davis into a 4-18 shooting night.
Norman Powell finished with 18 points, played great defence on Jrue Holiday, and brought the Raptors back following a dreadful second quarter.
"It's a good feeling to bring energy like that," said Powell. "I'm just trying to make plays that change the momentum in our favour especially when we're down and bring energy to the arena and to my team."
"I thought his physicality was good," Dwane Casey said of Powell. "We've got to get in their chest, get in their airspace without fouling. Norm did a good job of staying square."
The win was probably harder than it should have been facing a team win an inverse record (30-19 vs 19-30) but much needed at the end of a brutal month.
January was Toronto's first losing month since March of 2015 when they swooned down the stretch before getting swept by Washington in the playoffs. They allowed 108.1 points in January compared to 101.1 in December and had lost 6 of their last 7 before salvaging this one.
"The way that second quarter ended, to come away with the win is a very good thing," said Lowry. "The way we came out of the locker room to finish with a win I'm glad we had the chance… we were all down and out of it."
The Raptors still sit half a game back of Boston and these games are crucial for playoff positioning. Remember, this is a team that played two game 7s at home in last years' playoffs and they'll need that advantage again.
Toronto's also finally getting healthy – Sunday was the first time this season all 15 players were available to play – but DeRozan missed Tuesday's game, and won't play Wednesday either.
"They have guys that can step up," said Pelicans coach Alvin Gentry. "That's why they're a good team. I do think they have good depth and everyone goes through losses, goes through a little slump. I'm not worried about it they're still good enough that they're still second best in the East."