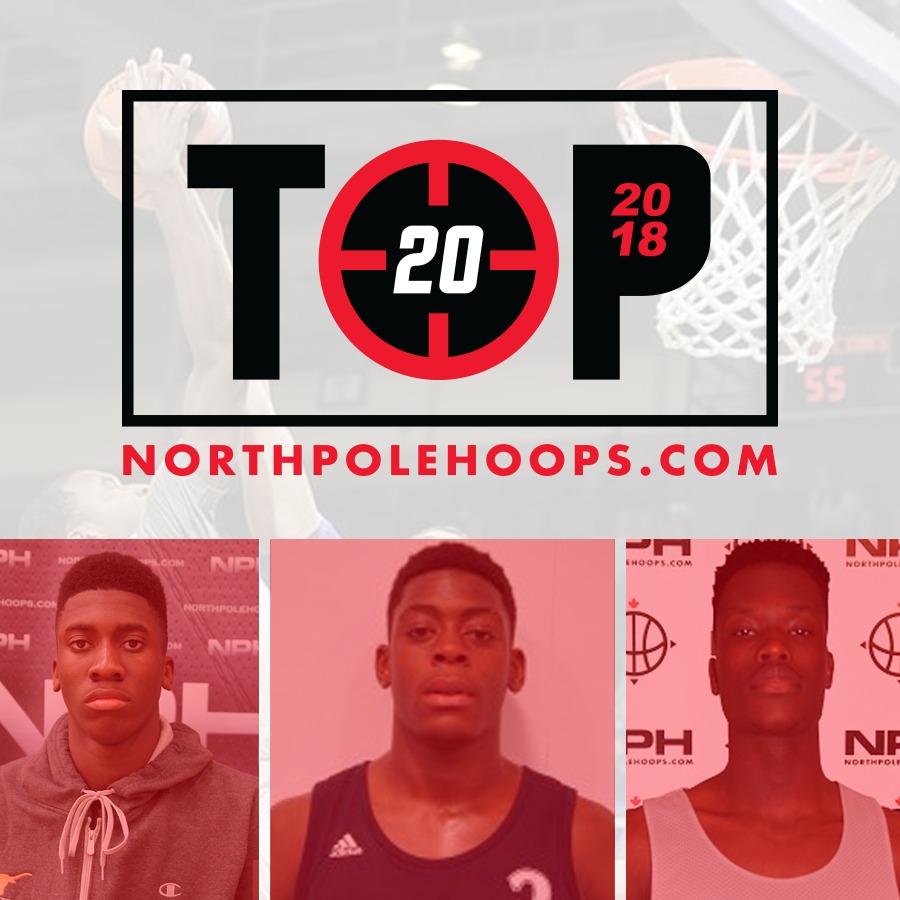 2018 Canadian Top 20 Player Rankings
The preseason and early season games have given a strong indication of how the Canadian 2018 class is shaping up in terms of development and upside. NCAA recruitment of some of these guys has rocketed while others are becoming bigger names on the coaching scene.
Over the summer five of the names below (Simi Shittu, Ignas Brazdeikis, Emmanuel Akot, Noah Kirkwood and Daniel Sackey) participated on our Canadian National Team during the U17 FIBA World Championships, while others showcased their talent on the AAU circuit in front of hundreds of NCAA coaches. It is also expected that Canada Basketball will offer an invitation to Lugentz Dort in next year's National team camps.
Out of everyone in this class, Dort is the most ready for the next level from a physical and mental standpoint. We wouldn't be surprised to see him opt out of a post-grad year and commit for 2017.
Through extensive evaluation on next season's graduating class, we have compiled a list of the top 20 Canadians in 2018.
#
Player
POS
School
HT
WT
Commitment
Top 10 Recruitement
Simisola "Simi" Shittu | 6'10 | F | Vermont
Simi is getting a lot of freedom to develop as a point-forward. The offense runs through him a lot at Vermont. All-world athleticism, shot blocking, rim ripping and now a developing handle. He's shaping up to be a dangerous talent.
UConn, Okalahoma, Arizona, Louisville, Washington, UCLA, Maryland are the heaviest in the mix with Simi. There is an onslaught of others who have offered as well.
Kentucky, Baylor and North Carolina have been more in contact as of late and are starting to make a push for Canada's number one 2018 prospect.
Lugentz Dort | 6'4 | G | Arlington Country Day
The term "Beast Mode" does not apply because Beast is the only mode this prospect plays in from the moment that ball tips to the moment the last buzzer sounds. Perhaps the most next level ready from this crop of Canadians. Oozing with NBA potential.
Louisville, Oregon, Florida, Baylor. Freshest offers from mid November came from UNLV and St. John's.
Emmanuel Akot | 6'8 | F | Wasatch Academy
So efficient and can operate and be a plus when the ball is not his hand. Freak athleticism coupled with long limbs that are starting to beef up. Very bright future as the ball handling continues to develop.
Emmanuel Akot has narrowed his list down to four; Arizona, Louisville, Oregon and Utah.
Ignas Brazdeikis | 6'7 | F/SG | Orangeville Prep
He's transformed his body, added athleticism and strength and is still a knock down shooter with versatility to take it off the dribble. He's having a spectacular season early on with a list of games recording double-doubles.
Ignas took an unofficial visit to Michigan last week and has heard from many others. Baylor, UMass, SMU, Denver, Southern Utah, Niagara, Canisius, St. Bonaventure, UNLV, Oregon, Tennessee have all offered.
New interest from Pitt and Virginia Tech
Jaelin Llewellyn | 6'2 | PG | Virginia Episcopal
Elite skill. As the body continues to fill in, stock continues to rise. Confidence this year is on another level, as well enabling him to score in bunches and blow by defenders for to set the table for teammates…Stock rising
Hearing most from Pitt, Virginia, Georgetown, Wake Forest, Providence, Creighton.
Texas and Kentucky are latest to get involved and have come in to watch him in practice and game.
Emmanuel Bandoumel | 6'5 | PG/SG | Jean-de-Brébeuf
Has played every position in his young career and is currently getting major minutes at PG with Brebeuf. Bandoumel is an underrated passer and play maker. Two way player.
Oklahoma was the latest to come in and see Emmanuel in practice. Schools that have visited Brebeuf for workouts include Richmond and La Salle.
Potentially the biggest sleeper in the class.
Noah Kirkwood | 6'5 | Guard | Ashbury College
Diverse skill set, equipped with a handle variety of breakdown moves. Ultra skilled as a play maker and scorer.
With the transition to the guard spot Noah's recruitment has spiked up. George Washington, Notre Dame, St. Bonaventure, Texas, USC, Vanderbilt, Virginia, Wichita State, Wisconsin.
Junior Farquhar | 6'2 | PG | Orangeville Prep
Dynamite athlete, quick burst and a tight handle. A prospect that can lead a team, set up teammates and get buckets.
Baylor was one of the first to offer him way back in 2014. New Mexico, Tulsa and USC are also official offers.
Farquhar has also been hearing from Memphis often.
Kaosi Ezeagu | 6'10 | C | Hamilton Heights
Under the radar, yet coaches starting to notice assets as a defensive presence and pick and roll player. Ezeagu will be highly recruited when its said and done.
Currently holds no offers.
Keshaun Saunders | 6'4 | Guard | Orangeville Prep
Keshaun has unleashed this season and has been bringing out the alpha in every game. Slashes often and moves well without the ball. The bunnies have also been way more on display this season.
Current list of offers includes; Illinois, Northern Arizona, New Mexico, St. Bonaventure, Southern Utah, UMass and USC.