Shol Ayach Dominant as Notre Dame Bounces back against B.C. Christian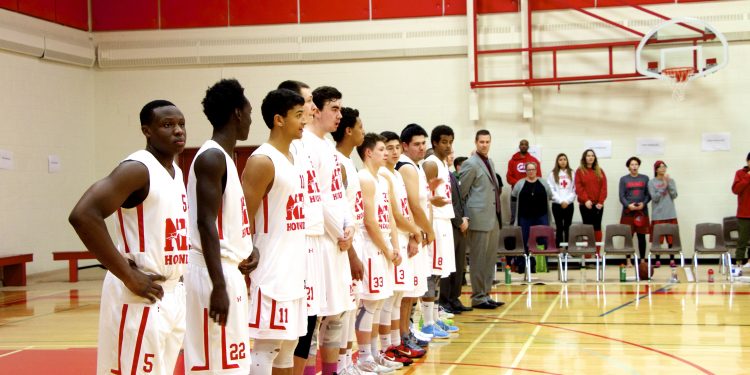 The #8-ranked Notre Dame Hounds redeemed themselves in their second game of a back-to-back series with B.C. Christian, taking down the #2 Panthers 77-71 to even out their NPA record at 1-1.
The Northwest Division of National Preparatory Association kicked off this week where @NotreDameHounds & @BCChristianPrep split 1-1! #NPA pic.twitter.com/6UkY6UylIq

— NPA (@NPACanada) November 6, 2016
Shol Ayach dominated over the weekend for the Hounds, leading the NPA in scoring this weekend after a 30 point, 14 rebound and four assist performance in the win. Ayach averaged 24.5 points over his first two games in the league, and was the deciding factor in Notre Dame pulling out a hard fought win against the tall B.C team.
Keenan Dowell led B.C. Christian over the Hounds in their first matchup of the season, contributing 26 points in a 96-82 win for the Panthers.
"We feel blessed at Notre Dame to kick off the National Prep Association in our home gym. The competition was top notch, and people drove from all across Saskatchewan to come watch. Over 1200 viewers [from all over the world] tuned in online to watch," said Adam Huffman, Head Coach for Notre Dame.
"Shol Ayach is truly one of the best athletes in the league, and he had multiple crowd-erupting highlights on the weekend."
Jashon Henry, Shol Ayach on 🔥 for @NotreDameHounds Tied up at 37 going into second half! #NPA

— NPA (@NPACanada) November 5, 2016
Jashon Henry also added 20 points, seven rebounds, and three assists for the Hounds, while Adefolarin Adetogun had 14 points and seven rebounds in the teams second NPA game.
The Hounds and the Panthers finished the first half tied at 37 apiece, and both teams exchanged the lead in the third, with B.C finishing the third quarter with a one point advantage over the home team.
The fourth quarter again saw an intense battle between the two Northwest division rivals, but just over halfway through the fourth quarter Adefolarin Adetogun found Shol Ayach under the net to put the Hounds up 69-68, a lead which the Hounds would battle to preserve for the rest of the game.
Adetogun also connected on a dagger three late to put Notre Dame up in the dying seconds of regulation, sealing the win for the Saskatchewan squad.
Both west coast teams move to 1-1 on the season.