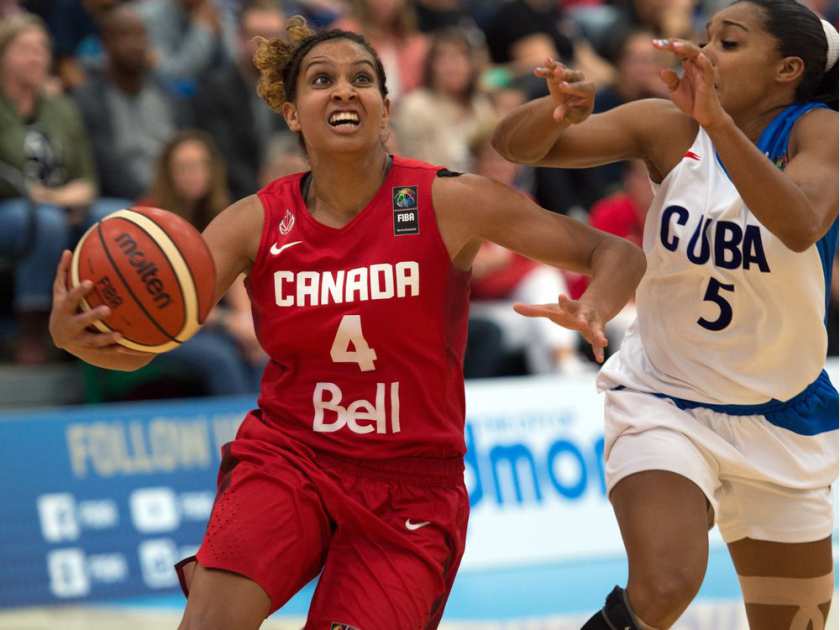 Team USA tops Canadian Women in friendly
Team Canada's Senior Women's squad were knocked off by back-to-back Olympic champions Team USA 83-43 in their second exhibition match of the USA Basketball Showcase, a warmup tourney before the Olympics kick off August 6th. 
Final:
🇨🇦 43 🇺🇸 83
Langlois led Canada with 11 pts
Canada wraps up USA Basketball Showcase vs France at 130pm EST Sunday#WeAreTeamCanada

— Canada Basketball (@CanBball) July 30, 2016
It's Canada's second loss in the Showcase, falling to Australia in a close battle in their first matchup. Despite the 0-2 record, the US and Australia are currently the top two ranked teams in the world, and the only way to be the best is to beat the best. Continued competition against these powerhouse squads stacked with WNBA stars will only help Canada in the long run. 
Canada started the game with Miah-Marie Langlois, Kia Nurse, Kim Gaucher, Tamara Tatham and Miranda Ayim on the court; with Langlois leading the Red and White with 11 points. Natalie Achonwa, fresh off an injury recovery, added seven points of her own. America's Diana Taurasi led all players with 14 points. 
"We need to play against tough competition. The last two years we haven't lost a lot of games, so this was great for us because we need to identify gaps and we certainly got those identified pretty quick," Team Canada coach Lisa Thomaidis. "We're gong to continue to improve and our goal is to be at our best the time Rio rolls around. There's some key games that we have to win down there in order to move forward and achieve some of the goals that we set for ourselves. The USA team is where we want to be, and that's where we're striving to get at some point."
"We came into the game knowing what we were up against, we came into to it as a learning opportunity, to go up against the best in the world and to see how we match up," said Thomaidis. "USA just does so many things defensively with their length and athleticism, that really changes how you want to play the game and that was evident for us. We really struggled at the offensive end to put the ball in the hoop, and we're going to learn to get better from this experience."
Thomaidis thoughts sum up Team Canada's situation perfectly. The women are arguably much better than their FIBA rank of 9th internationally, but are still a far way away from the dominant United States. The only way to prove their authenticity to the rest of the world and improve as a unit is to continue to compete against the best and take away as much as possible from it. 
Regardless of the outcome of these friendlies, the Canadians gain a sense of their top opponents before Rio, and have time to hit the film room and find out where they made their mistakes. Hopefully the next time these two teams see each other there will be hardware on the line, a situation this squad has proven they thrive in. 
Canada takes on France, FIBA's #4 ranked team, in its final game of the USA Basketball Showcase on Sunday at 1:30pm at Madison Square Garden in New York.