Nik's Notes: THE CYBL SHOWDOWN IS SET!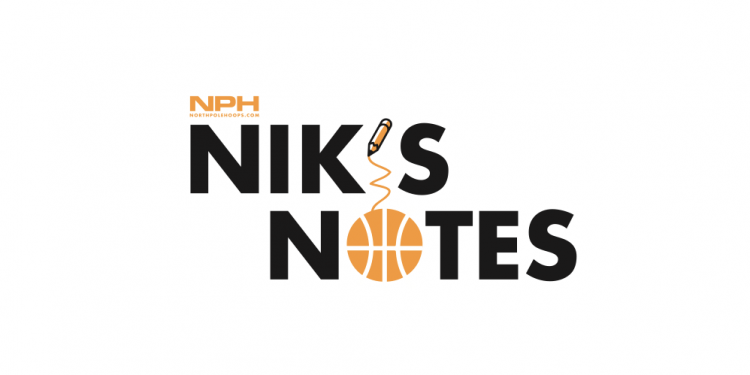 As the final session of the CYBL winds down, there is only one thing in mind for everyone involved … playoffs!
And no I don't mean that in a high pitched Jim Mora voice.
Instead, with an exciting and investigative tone, here on Nik's Notes its time to take a look at some of the match-ups in the grade 7 and 8 division in the CYBL
This weekend at the CYBL proved one thing, on any given day you better bring you're A game or your susceptible to losing, and thus, in the playoffs, going home.
There are still two undefeated teams remaining in the CYBL in Grassroots for the grade 7 division and Cory Joseph Elite in the grade 8 division.
Both teams continue to plow through opponents, and so far no one has been able to figure out how to crack their codes.
Grade 7 Ottawa Elite had a great showing this weekend as the comeback kids were able to overcome both a 13-point, and 12-point deficit over CIA Bounce and Durham, respectively.
The team put together great runs in the second half of both games, and has shown that they are solid competitors.
Team Breakdown was able to secure third spot in the standings with their impressive win over Durham on Saturday night.
In an up and down affair, it was eventually the effort from the bench (23 points in total) that propelled Breakdown to the 72-64 victory.
The Marksmen also continued to be dominant finishing the weekend off 4-0, and look poised for a long playoff run.
Don't forget about YAAACE and the Waterloo Wildhawks either, as both clubs have the talent to compete with the top teams in the division.
The grade 8 division has also come to life with Ottawa Elite, Grassroots, UPlay and 21 Hoops East all gearing in for long play off runs.
Ottawa's length and size have helped them show some good promise this weekend, as they have players that are able to use these intangibles to swing the game into their favour.
This is a team on the come up, and as many coaches already know, they will be a tough out.
Grassroots has a swarming tough interior defense, and good long range shooting at their disposal.
They are able to rally multiple points at a time, as shown by their comeback in the final two minutes of Sunday's game against UPlay.
Grassroots collected a 51-48 win after being down 46-40 with less then a minute left in the game.
UPLAY brings good size and tough guard play to the forefront of their attack and also rely on that hometown Hamilton grit and toughness to swing games into their favour.
Still evolving, here is a team that has significantly gotten better as each session of the CYBL has passed.
21 Hoops East will also be eyeing that CYBL showdown championship with their great ball movement, and inside-outside game.
They bring great guard play to the front, and a calm demeanor that always allows them to stay level headed through the length of their contests.
Playoffs are set for March 5-6th at Durham College and Bill Crothers in Markham, Ontario.