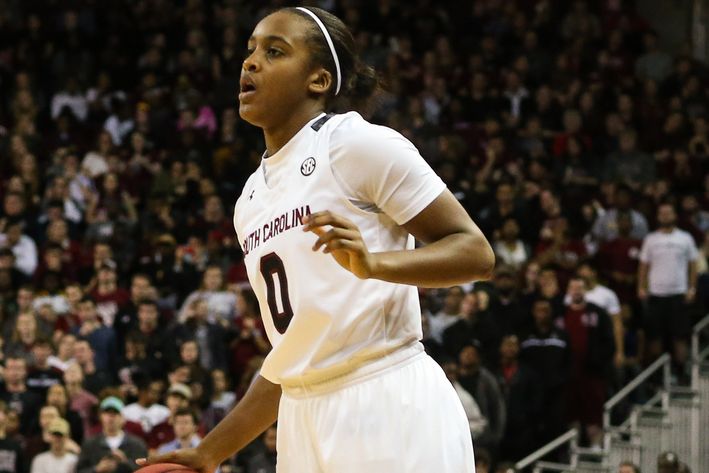 Brampton's Shay Colley Finds Comfort in Pittsburgh
Special to NPH, by Brian Swane
Pittsburgh is roughly 500 km away from Brampton, Ontario.
That's around 900 km closer to The Six than Columbia, S.C.
And Shay Colley feels more at ease with every inch of those 900 clicks.
The highly touted point guard from the Greater Toronto Area surprised everyone at the beginning of January when she decided to leave the University of South Carolina, just one semester into her freshman year and after only 11 games with the powerhouse Gamecocks. Less than two weeks later, the five-foot-eight Colley had officially transferred to the University of Pittsburgh, where she will be eligible to suit up for coach Suzie McConnell-Serio's Panthers squad next January.
She's quickly found comfort in her new surroundings, enough to open up about the tough decision she arrived at a month ago, days before her 20th birthday.
"I was homesick, and that played a huge part on me mentally, so on the court I wasn't myself," Colley explains. "I just wasn't doing what I used to do and what comes naturally to me on the court and that just goes back to me mentally missing being close to home.
"So that was my ultimate decision to leave and when it came down to make the decision to (go to) Pitt, I was like, 'What better place to go than to learn from Coach Suzie?'"
In McConnell-Serio, Colley has a mentor that is regarded as one of the best point guards in the history of women's hoops and is the all-time NCAA assists leader.
Pittsburgh was one of the schools she had originally considered when she was being recruited out of St. Edmund Campion Secondary. Michigan State was also a transfer possibility before Colley decided to enroll at the Pennsylvania school this semester.
"Coming in, everyone was very welcoming and the hospitality was great," she says. "The girls were also welcoming as well, so I just felt comfortable and knew this is where I wanted to be."
It only took about a month in Columbia before Colley began to feel pangs of homesickness. At the time of her departure, Gamecocks were ranked No. 2 in the nation and Colley was getting about 13 minutes a game off the bench, averaging 2.7 points, 1.8 boards and 1.2 dimes.
As will be the case at Pittsburgh, Colley played for an iconic former point guard at South Carolina, Dawn Staley. Though it was only a few months, Colley tried to soak up as much as she could from the Basketball Hall of Famer, who is a four-time Olympic champ.
"I just really tried to adapt from her (the attitude) to always get better because there's someone always trying to get better than you," Colley says. "So that's what I have to work on and transfer over to when I play for Pittsburgh: just to get better every day."
As per NCAA transfer guidelines, Colley is ineligible to play through the end of the Fall 2016 semester, meaning she's still more than 10 months from making her Panthers debut. The challenge will be staying sharp until that day arrives.
"Right now I'm in the gym with our strength coach training four times a week, making sure my strength and fitness is up to par," she says. "On the court I'm getting a lot of reps in being on the scout team, and getting extra shots up when I need to."
Not far from Colley's mind is earning a tryout for the Canadian women's national team that will compete at this summer's Olympic Games in Rio.
"I'm just trying to stay in the best shape I can and be ready for the tryouts come (spring)," says Colley, who played last summer for the development women's national team and has more than 30 international games under her belt over the last four years. "I'm trying to maintain myself and make sure I'm ready."
Pittsburgh isn't just closer to Canada by mere distance; The Steel City is culturally much more alike the North than the decidedly Southern flavoured Columbia.
Plus, Colley's now got a Canadian teammate, Montreal's Fred Potvin, a junior guard.
"Coming in I have someone from back home, they know about poutine and what not," laughs Colley.
"It's just another comfort thing and just makes the transition that much easier."