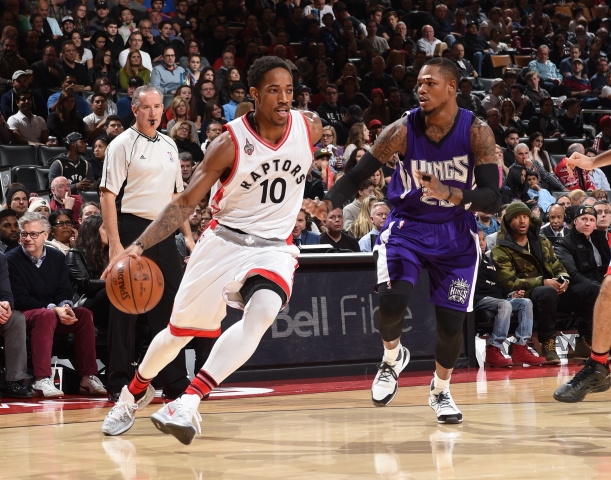 Kings crown the Raptors in TO
TORONTO – The Raptors nearly clawed their way back after digging themselves a 17-2 hole to start the game, but an ill-timed Lowry ejection and a depleted bench left Toronto short in a 104-94 loss to Sacramento on Sunday night.
DeMar DeRozan finished with 28 points, narrowly missing his third straight game of 30+. Patterson played Cousins well on the defensive end and scored a season-high 18 points with seven rebounds. He's the lone remaining player that arrived from Sacramento in the Rudy Gay trade.
Kyle Lowry was tossed just over four minutes into the second half arguing a call and nobody stopped him. The more he argued with the refs the worse it got and consecutive technicals sent him to the showers early.
"I was just trying to explain myself and figure out why I got the first one and I just happened to be there for too long," Lowry told NPH and assembled media post-game in the Raptors locker room. "At the end of the day it's my fault and I've got to have better composure and have responsibility for my actions."
The outburst ties Blake Griffin to lead the NBA in techs with seven. It was the third ejection of Lowry's career.
Gay finished with 19, Rondo with 19 and 13 assists, and Cousins played an uncharacteristically poor game against the Raptors for just 15 points but still impacted the game on either end.
Sacremento clogged the paint and let the Raptors isolate with no spacing. The Kings were getting great looks from three and capitalizing on them.
"We've got to get our collective heads back together we have enough in the room to get it done," said Casey post-game. "We'll get DC (Carroll) back, we'll get JV (Valanciunas) back but until then we've got to do it collectively with eight or nine or ten guys that are in the locker room."
James Johnson started his second straight and just his fifth game of the season, with Terrence Ross again coming off the bench. A product of a thin bench right now, starting to feel the fatigue of playing without two starters and learn to balance a D-League roster. Carroll and Valanciunas are to see doctors this week seeking clearance for returns.
Bismack Biyombo underwhelmed coming off back-to-back 15 rebound games – three straight hasn't happened since Bosh did it in 2010.
Toronto will try to get back on track Tuesday against the Mavericks.
905 Update: Norman Powell scored 30 on 12/18 shooting this afternoon in the D-League for the Raptors 905. Anthony Bennett asked to be sent down and put up 13 with two three-pointers.