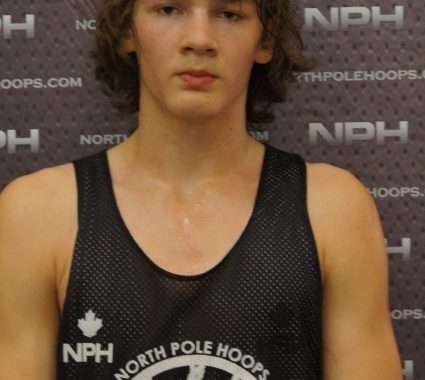 Bishop Reding Still Rolling at 14-0, Campion Showdown Champs
The stigma surrounding the high school season is that it is drained of talent as a result of all the transfers to the U. S and the players that have transferred to play at Prep Schools in Ontario. This notion is utterly false, the 5th annual Campion Showdown proved that.
This season is actually loaded with talent, the difference between the 2014-2015 season and this year is that the talent is merely budding; they're 14 and 15 year old prospects that have raw athleticism and some that even have defined skill sets but lack the IQ and overall experience.
Take a team like d'Youville as an example, they lost a few players to graduation and a few others to prep schools…and the cycle continues, this is nothing new to them since they manage to come out of their region year after year and contend for an OFSAA Championship.
Arguably the best long term prospect on the team, AJ Lawson is the top producer for the Panthers but he often makes rookie mistake and poor decisions. As usual with other prospects in the past, we'll see him adapt, gain confidence and be a leader for this team.
It's the same case with a host team like Campion, a loaded roster like St. Marcellinus and even the champs at the Campion Showdown, Bishop Reding. There's oodles of talent, its just that they're pups.
Bishop Reding Snatches Campion Showdown Championship of SJAM
Bishop Reding came into this tournament with a 10-0 record and finished the tournament 14-0 while picking up a tournament championship with a win over Sir John A. MacDonald 56-53.
They met their match with Sir John A. MacDonald who had been leaning on the trio of Nedim Hodzic, Simon Petrov and Justin Hardy to man the ship.
Hodzic came into the final game averaging 33 points and over 10 rebounds a game. When you associate the word Warrior with a player, use this guy as a reference.
He had been relentless on the glass the entire tournament and completed many three point plays after finishing through contact.
When the Bishop Reding Royals were getting away and building a lead Hodzic would respond and stop the bleeding.
It was a little more difficult for Petrov and Hardy to get their shots off as quick as they had done in previous games with Royals defenders chasing them off the perimeter. The two senior guards had a very productive weekend overall.
Bishop Reding's senior forward Daniil Shesternin drained Hodzic of any energy he had left while contesting his every shot and doing his best to box out his opponent.
On Reding's side there was well balanced scoring and fairly even contribution on the defensive end. Bishop Reding had multiple ball handlers who took advantage of beating defenders off the dribble in the first half, but forced a lot of possessions to end the half, going one on one while teammates were on the perimeter at a standstill.
Head Coach of the Royals, Ron Esteban spoke on his team's adaptability after the game.
"Since game 1, this team has learned to adapt from each game based on playing different styles. Originally we were a transition team but now we have so much depth and versatility that we can play different styles. We've learned to execute different styles based on being mentally tougher and knowing their roles. We aren't going to blow teams out because we play 11 guys but we are consistently competitive with everyone. There's still a long way to go for us."
The biggest lead of the game belonged to them, ahead 12, but a few consecutive pull up jumpers from Petrov had cut the lead again until it was just three with a minute to play.
SJAM had a final opportunity to take the game into overtime but a strong close out on the three point line from Reding had Hardy's shot sailing way left and landing out of bounds.
These are two teams that are both expected to represent their region come end of the season at OFSAA. From now until then there's still lots to prove because of the parity between teams across the province. There is no true number one until that final buzzer in March.
Tournament MVP:
Payne Wood
Tournament ALL-STARS:
Xavier Ochu(Reding)
Jordan Brathwaite (Reding)
Nedim Hodzic (SJAM)
Simon Petrov (SJAM)
AJ Lawson (d'Youville)