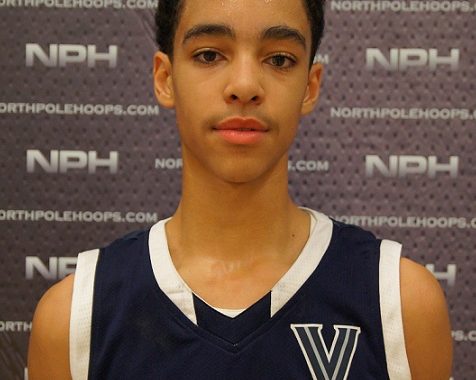 FHC Wins Early Bird Championship, John Akende Earns MVP
The Father Henry Carr Crusaders have set the tone for the high school season in Canada as they begin their OFSAA run with a tournament Championship at the #FHCEarlyBird by defeating a well prepared Vaughan Voyageurs 76-63. It is more than likely for these two teams to meet again in tournament play soon.
Vaughan's Andrew Nembhard came out as the aggressor and helped Vaughan build a five point lead at the end of the first quarter, while scoring 13 of the 22 in the first frame.
Now a tenth grader and still the most impactful for his team, he is without further debate the best point guard in the 2019 class.
He beat opponnents off the dribble, pulled up from the three point line and free throw area and had pinpoint passes that unfortunately teammates could not finish. Nembhard is well beyond his years.
FHC eventually made adjustments to defend Nembhard; they had to as he was on pace for 40 points while still setting the table for teammates to eat.
We caught up with Crusaders head coach Paul Melnik to get his insight on the adjustment that was made in the second half.
"Andrew is a very special player.  He makes plays, he finishes extremely consistently and he makes players around him much better.  The plan was simple: we needed to get the ball out of Andrew's hands so he couldn't make plays.  If Vaughan was going to beat FHC, then we wanted to force the other players to make plays.  If you let Andrew get comfortable and make plays, Vaughan will beat you!"
Some may say that the pre-season doesn't mean much, yet I tend to disagree as we were able to learn about the personnel, systems and key contributors of some of the top high school programs on the scene early on.
This year's Crusader squad has a good understanding of role definition and has multiple contributors that can give 10 or more points a game while all playing exceptional defense.
Tournament MVP, John Akende is an example of this. He provides a ton of energy that his teammates feed off of, a spark plug if you will. The intensity and passion for the game that he brings is his strongest intangible.
Akende finished the game with 13 points, 4 rebounds and 2 steals.
In the past few weeks, he's reinvented himself and is maturing at a rapid rate.
Coach Melnik commented on his captain after the game.
"John is a talented player with a strong body and a ton of intensity.  He is our emotional leader.  He is slowly acquiring the leadership skills that point guards and great players possess…A little progress on a consistent basis surpasses a few setbacks that may occur occasionally.  We are proud of John's progress and the team's progress."
On the Vaughan side, we're seeing a new version of Joseph Thomas; a more relentless competitor with a consistent mid-range jumper and rebounding skills.
In games like last night's championship, there has to be more production coming from the rest of the unit for Vaughan. After Nembhard was keyed in on, other guards were hesitant to take ball handling responsibility. In part, it was a lack of aggression from other Vaughan guards and partly the intimidation factor that we should credit FHC for on the defensive end.
Nonetheless, as mentioned on live stream last night, Vaughan has looked like the most prepared team in pre-season thus far. Henry Carr undoubtedly the most potent.
The evaluation from this weekend will help us evaluate the state of the landscape and how teams will fit into the rankings before the official season kicks off.