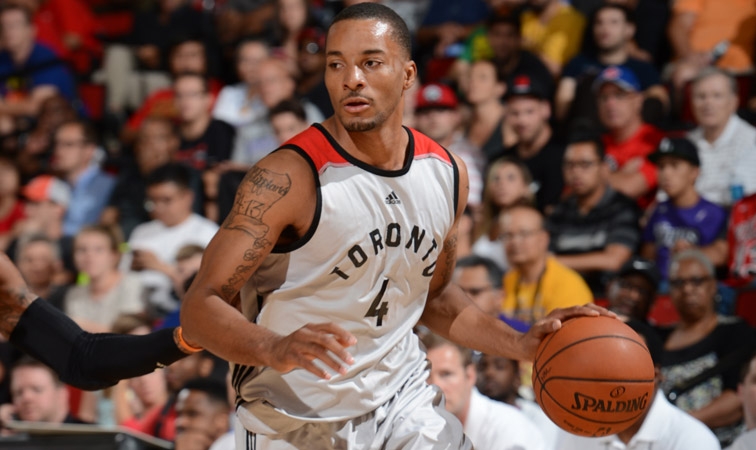 Powell A Summer League Star
Though the Raptors' summer season ended with a 3-2 record and no "Vegas" championship, Toronto has reason to celebrate with the play of Norman Powell.
On Monday it was announced Powell was selected to the All-NBA Summer League First Team, among the five best players in the showcase.
The 6-4 guard with 6-11 wingspan displayed the ball-hawking talent that Raptors observers believed they had with a steal of a pick in the second round at 46th overall.
Not only was Powell the only second-rounder to be selected, he was the ONLY player selected in the 2015 draft named to the All-NBA Summer team.
Pretty good return value on a second-rounder.
https://www.youtube.com/watch?v=cTwgb1A4_fM
The National Basketball Association announced Sunday that Toronto Raptors guard Norman Powell has been named to the All-NBA Summer League 2015 First Team, as selected by a panel of media members.
Powell averaged 18.3 points, 4.3 rebounds and 25.5 minutes in four outings. He shot .509 (27-53) from the field and .444 (4-9) from three-point range. He led the team in scoring in all four games, including 20 points in Toronto's opener versus Sacramento.
Powell, 6-foot-4, 215 pounds, was selected in the second-round (46th overall) by Toronto in the 2015 NBA Draft. He averaged 16.4 points, 4.7 rebounds and 1.8 steals in 36 games last season as a senior at UCLA. He was named first-team All-Pac-12 and an Honourable Mention selection on the All-Pac-12 Defensive Team.
Powell joined Kyle Anderson (San Antonio), Seth Curry (New Orleans), Doug McDermott (Chicago) and T.J. Warren (Phoenix) as members of the All-NBA Summer League 2015 First Team