Tariq's Tidbits: Amidou Bamba BREAK OUT + Thon Maker, Marcus Ottey, Godwin Boahen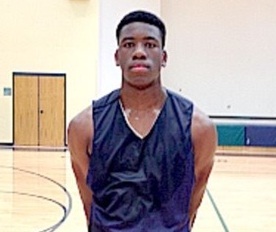 4th quarter. 5 minutes on the clock. Down 10. Odds are stacked against us.
But we made it.
Dropped off the car rental, bypassed the long airport line, hopped on the sky train, struggled up a flight of stairs and sprinted to our gate with my guy Srdjan Pejicic; near heart failure but we made it.
Toronto bound.
After a couple days in Atlanta, there's a lot to share with you:
Canada Elite Best Finish in Program History
Canada Elite was fresh of being crowned CNIT National Champs in Canada and entered Atlanta with hopes of doubling up at the Under Armour Association Championships for both U17 & U16 age groups.
The 17s featuring Thon Maker, Justin Jackson, Godwin Boahen and Marcus Ottey made it all the way to the U17 Finals where they would take an L to eventual UAA champ Team Charlotte.
After a heated semi-final battle against  Mo Williams Academy (MVA) CE looked drained following the first 10 minutes of the game VS Charlotte.
Team Charlotte kept attacking and hitting shots from the outside. It was a grind it out game and the team with more mental fortitude would ultimately win.
That said, when you take it in, Canada Elite had their best finish ever in CE's young history.
Break Out Performer
Amidou Bamba – it was the best that I've ever seen him. Bamba was the X-factor and defensive anchor for Canada Elite–shot blocking, taking charges, rebounding and altering shots…simply put, he played his ass off and did not hesitate to let the opposition know he was there to compete. He barked a lot, and backed it up with bite. Mamba is a brilliant student with over a 95% academic average. Loved what I saw out of AB, and so did 100+ coaches. Expect his college recruitment to boom.
Thon Maker Intangibles
I learned a lot about Maker this week, in terms of intangibles and leadership. Maker has infused CE with a new swagger and aggression from finishing strong above the rim to playing every possession. I saw him communicate with his teammates to make sure they remained level headed and I also saw toughness; when he wanted to get to the rim, he did at will, and manhandled most opponents. He wants to win…bad. Maker was a team player and looks on course to maximize his potential. At 7'1 his fluidity with the ball continues to improve. He truly is a phenomenon, but he must continue working and developing.
Marcus Ottey Highlight Show
Like Bamba, it was the best that I've ever seen Ottey in four years. When he is fully engaged, he is scary on both ends of the floor due to his physical gifts; length, special athleticism, explosiveness and speed. He was also knocking it down with consistency from three, which made him a load over the weekend. It's very important that Ottey works on his fundamental skills to take his game to another level…he, like all special athletes, should never settle because of their physical blessings. Upside through the roof and seems to be maturing, and competing at a higher level. It was the biggest stage he's been on, and he stepped up to the plate. Ottey woke up a lot of people in America.
Godwin Boahen – Straight G
Eastern Kentucky's full coaching staff was on hand for Boahen at UAA Finals after offering him at CNIT. He was also recently offered by Niagara, and expect the list to grow considerably. Programs from the low-high major levels have been inquiring after his work in Atlanta. Just a tough kid, that welcomes the big moments.
Nickeil Alexander-Walker
A kid that we expected to make noise, and did–Alexander-Walker picked up offers from Illinios, UNLV and Cincinnati. The Canadian 6'5 combo guard was making plays all weekend, but is still getting comfortable at the lead guard position. Loads of upside, toughness and will to compete. Winner.