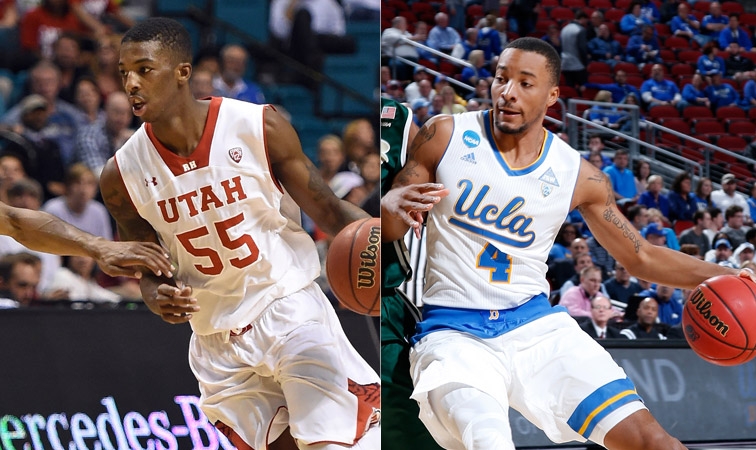 Raps Draft Wright & Powell
With the 20th overall pick in the 2015 NBA Draft the Toronto Raptors selected University of Utah senior point guard Delon Wright.
Wright averaged 14.5 points, 4.9 rebounds, 5.1 assists and 2.1 steals in 35 games last season and is known as a defensive stopper with the size at 6-5 to guard all perimeter positions. Sounds like Dwane Casey's getting the gritty defenders he needs for his system.
Winner of the 2015 Cousy Award as the NCAA's top point guard, Wright won't be star-struck by the NBA as his older brother Dorrell is an NBA veteran who exposed him to the pros.
"He's one of the top defensive point guards in the draft," Casey told media. "He defends, he can run the pick and roll very well. Great kid, good character, good team guy, and an excellent ball passer in the pick-and-roll game."
Wright should fill minutes right away because on Draft night the Raptors also announced they had traded backup guard Greivis Vasquez to Milwaukee.
Vasquez appeared in all 82 games this past season, starting 29 of them and averaging 9.5 points, 3.7 assists, and 2.5 golden quotes per game.
The Venezuelan guard always brought swagger and the ability to shift the tempo when he entered the game, but couldn't defend quicker guards. A few years back Vasquez led the NBA in assists per game, but never got that chance buried behind Kyle Lowry. Milwaukee will be good for him but "The General" will be missed.
In return the Raptors receive a first-round pick in 2017, giving them two first rounders in each of the next two drafts, and clear some cap space with Vasquez's $6.6M off the books for roster flexibility.
They also received the 46th pick in 2015 which they used to pick up UCLA's Norman Powell, a 6-4 guard with 6-11 wingspan, and defensive instincts who is also a good finisher around the rim.
https://www.youtube.com/watch?v=TCyJLI–e18
Powell averaged 16.4 points, 4.7 rebounds and 1.8 steals in 36 games last college season.
All in all, a sneaky good draft for the Raptors.