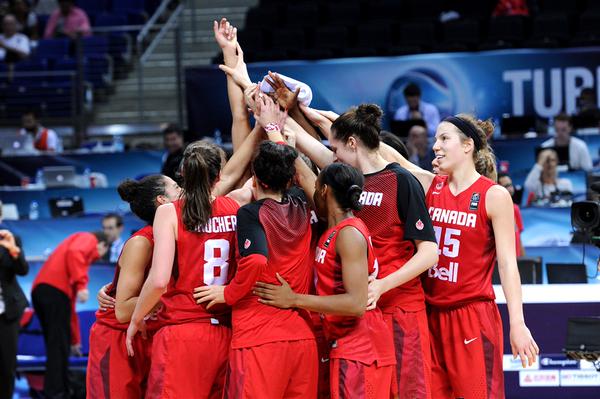 Women's Pan Am Roster Loaded with Experience
Natalie Achonwa was expected to help push Team Canada to new heights last year at the 2014 FIBA World Championships, but an ACL injury in April interrupted everything.
Still, that team went on to a fifth-place finish – the best for Canada Basketball in nearly 30 years.
Now Natalie is back and recently made her WNBA debut. She and Nayo Raincock-Ekunwe are the new kids on the block on a Pan Am Games roster full of experience that returns 10 members of last summer's team.
"The reason why we've been successful in getting the team to where we are now is we've had commitments from players who agree to be back each summer," head coach Lisa Thomaidis said Monday on conference call. "Having ten back is really beneficial because we can build upon what we did last year at World's."
Currently ranked 10th in the world by FIBA, Canada sits third among the teams from the Americas after USA (1st in world rank) and Brazil (7th) but are on the rise.
The two additions to the lineup only add to the excitement of a roster that's built to medal against the best of the Americas.
"We're so excited to have her back and in the fold," Thomaidis said of Achonwa. "We had her just those few days at Camp – she has such a great presence, just her basketball IQ, she brings a lot to the table."
Achonwa and Raincock-Ekunwe bring international experience from junior and cadet national teams down the talent pipeline as well as boost the overall athleticism of the squad that should give them the upper hand against most teams.
So while the squad remains much the same, they're focusing on more of a fast-paced approach with the depth of talent at their disposal.
"We're trying to increase the tempo and take advantage of the athleticism we have," confirmed Thomaidis.
Another large part of that movement is the emergence of Kia Nurse: Canada's 19-year old point guard of the present and the future.
"Kia played a big part on this team ever since she cracked the lineup two years ago and she's one of those players who's just going to keep getting better," said Thomaidis. "She's going to play a big role on this team and for years to come."
Nurse showed poise this year on the NCAA's biggest stage, leading UCONN through March Madness to a national championship.
All the team's efforts will be concentrated on preparing for the FIBA Americas to be hosted in Edmonton from August 9th to 16th. A good showing there will ensure a Rio 2016 Olympic berth.
Seven members of the TORONTO 2015 squad – Achonwa, Ayim, Gaucher, Murphy, Michelle Plouffe, Tatham and Thorburn – represented Canada at the London 2012 Olympic Games.
It's going to be exciting for players and fans alike to play at home but there's also a lot of added pressure that comes with it whether that's the Pan Am Games in Toronto or the FIBA Americas in Edmonton.
"We haven't had the luxury to compete at home in the recent past so to be able to do this at Pan Ams and get used to what it's like to play on the home court will be important in terms of preparation for the qualifier," Thomaidis said.
Catch this team in TO when the women's basketball competition takes place at the Ryerson Athletic Centre from July 16 to 20, with a three-game preliminary round, semifinals and finals.
When they're representing Canada this summer, know they're building for something bigger but make no mistake – their time is now.
ROSTER
Athletes:
| | | | | |
| --- | --- | --- | --- | --- |
| First  | Last | Hometown | Position | Team/Club |
| Natalie | Achonwa | Guelph, ON | Centre | Indiana Fever (WNBA) |
| Miranda | Ayim | London, ON | Forward | Basket Landes (France) |
| Shay | Colley* | Brampton, ON | Guard | South Carolina(NCAA) |
| Nirra | Fields | Lachine, QC | Guard | UCLA (NCAA) |
| Kim | Gaucher | Mission, BC | Guard | Mondeville (France) |
| Saicha | Grant-Allen* | Hamilton, ON | Forward | Dayton (NCAA) |
| Miah-Marie | Langlois | Windsor, ON | Guard | Lulea (Sweden) |
| Lizanne | Murphy | Beaconsfield, QC | Forward | Angers (France) |
| Kia | Nurse | Hamilton, ON | Guard | UConn (NCAA) |
| Katherine | Plouffe | Edmonton, AB | Forward | ICIM Arad (Romania) |
| Michelle | Plouffe | Edmonton, AB | Forward | Mondeville (France) |
| Nayo | Raincock-Ekunwe | Toronto, ON | Forward | Wasserburg (Germany) |
| Tamara | Tatham | Brampton, ON | Forward | Pientanske Cajky (Slovakia) |
| Shona | Thorburn | Hamilton, ON | Guard | Nantes Reze(France) |
| Jamie | Weisner* | Clarkston, WA | Guard | Oregon State (NCAA) |
*Alternates
*Canada Basketball staff estimate the Men's Team roster for the Pan Am Games will be released in the second week of July
Coaches & Staff:
| | | | |
| --- | --- | --- | --- |
| Position | First | Last | Hometown |
| Assistant Coach | Steve | Baur | Wolfville, NS |
| Athletic & Massage Therapist | Marcel | Charland | Toronto, ON |
| Basketball Scientist | **Chris | DalCin | Toronto, ON |
| Team Leader | Denise | Dignard | Toronto, ON |
| Assistant Coach | Shawnee | Harle | Calgary, AB |
| Sport Psychologist | Peter | Jensen | Toronto, ON |
| Lead Physician | **Sarah | Kim | Toronto, ON |
| Performance Analyst | Dipesh | Mistry | Markham, ON |
| Head Physiotherapist | Joan | Mlynarczyk | Toronto, ON |
| Assistant Coach | Bev | Smith | Eugene, OR |
| Head Coach | Lisa | Thomaidis | Saskatoon, SK |
| Team Manager | Anne Marie | Thuss | Hamilton, ON |