Team Canada Cadets – Unfinished Business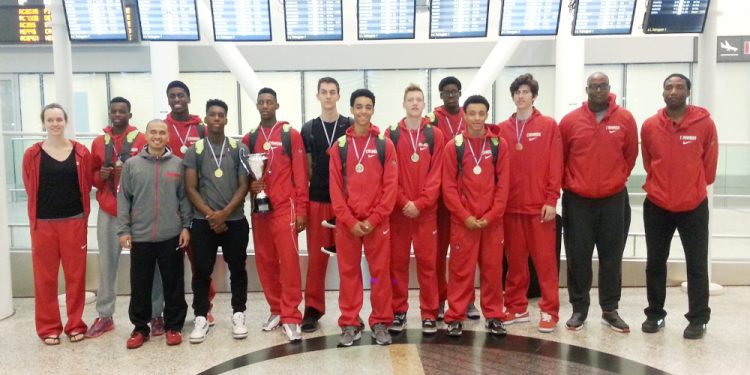 The U16 Canadian Cadet Team has met expectation and lived up to the hype despite losing in the finals to a star studded team USA 77-60.
Instead of dwelling on the collapse that took place in FIBA Americas Championship game [losing 20-point lead] there is far too many positives that can't be ignored, and this is where the post-FIBA Americas energy needs to be directed.
After all, this group put Canada in position to be one of the top contenders at World Championships in 2016.
This morning the team strolled in through Terminal 1 at YYZ, arriving back from Argentina with looks in their eyes like something was left behind. Their tone and sentiment implied that the job wasn't complete.
The memory of a 19-3 lead on the Americans coming into the second quarter lingered and gave them no choice but to feel the way they do.
The frustration of being in a powerful position and letting an opportunity slip will have them pondering the "could've, should've, would've" and replaying this game until Worlds.
"We had them, we were right there, but turnovers killed us and they had a lot of guys step up," expressed the tournament's leading rebounder with 11.4 per game, Simi Shittu.
Shittu registered a double-double with 18 points and 14 rebounds while displaying his versatility on both ends of the floor.
While the entire nation is proud of their performance, the team is already looking to avenge the loss. This should be seen as positive because it sends a message to the world saying that Canada is here to stay and has established itself as a World power in basketball, particularly at the younger levels.
In all statistical categories Canada had players among the Top 10, with Simi Shittu, Danilo Djuricic, Rowan Barrett Jr, Noah Kirkwood and Andrew Nembard all in the mix. The entire starting lineup was productive and efficient in their minutes.
In the first half against the States, Canada was gelling and playing a fundamental game which is suitable and necessary in International play. After gaining what was thought to be a comfortable lead, there was a clear deviation from the plan and style that Head Coach Dave DeAveiro had in place.
The game started to become more about isolation offense and putting the self before the team on turning point possessions.
During timeouts and in between quarters, there was a lot of excitement via social media from Canadian fans that were following the stream.
A switch in momentum was probable and almost inevitable. USA was not going to back down.
One thing that Team USA has ingrained in the culture of their game is resiliency. They got punched in the lip early by Canada and was able to swing back and connect which stifled Canada.
Going blow for blow is not something that Canada has yet learned to do. The mental stamina was absent as turnovers started to build up and careless mistakes were made under pressure; the same pressure that Canada had already proven they could overcome in previous games.
Responding to pressure and lead changes, this is what it comes down to. The term "its a game of runs," has never been more true as it was in this final game.
Coming into future games Canada must also develop and take a similar mindset to USA Basketball of going for the jugular and taking out opponents when they're down.
Team Canada won their first four games of the tournament by an average of 32 points; whereas, the U.S averaged out at 50-point wins.
Its not enough to have comfortable leads because at this stage there is enough skill, talent and other factors to make memorable comebacks.
Team USA's Gary Trent Jr, Jared Vanderbilt and Wendell Carter Jr. were not shy to let the Canadians hear an earful or show fierce competitive emotion after a made three or dunk.
Sportsmanship remains to be an integral part to the game at any level, but there is a fine line between sportsmanship and deflating the confidence of your opponent to the point of no return.
Positives
Chemistry building and understanding roles
Confidence to know Canada can compete with the best
Canada Basketball Junior Academy program paying off
Clinches spot for World Championships in 2016
Developed a core of athletes to move forward with
Very versatile offensively
Areas of Improvement
Must learn to close out games
Must be more selfless coming into Worlds and stick with what works
Handling pressure full court and adjusting to momentum swing
Defense at guard position
Looking ahead, as a country and governing body Canada must keep in mind that although there was relative success at FIBA Americas, the Worlds will present new challenges at a global level.