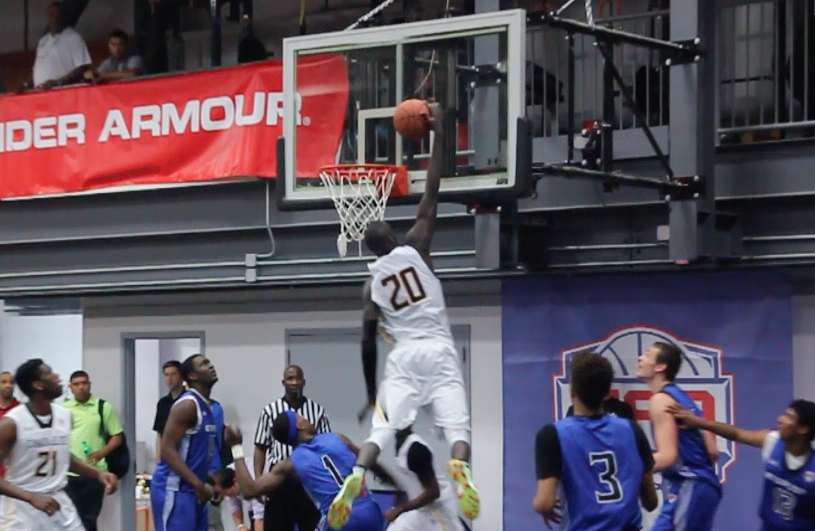 UA Association NY – Thon and Matur Maker Highlight Day 1
WHITE PLAINS, NY–The addition of Thon and Matur Maker to the Canada Elite AAU rosters, takes already contending Under Armour Association teams to another level.
ESPN's National Director of Recruiting, Paul Biancardi was in attendance to see what all the fuss was about with Canada Elite's new addition, while fellow ESPN colleague Tim Legler was on the sideline coaching South Jersey Jazz.
Both the 17U and 16U teams for Canada Elite started the New York session 1-0 and with overall records of 6-3.
Both teams gelled pretty well considering that such imposing prospects have been added to a core that was familiar and comfortable with one another.
The first game of he night was a victory for the 16U team that went up against South Jersey Jazz,  a one man show, with Myles Cale getting whatever he wanted and ending with 30 points in the loss.
Matur Maker played with his age group among other 2017 prospects and dominated in 20 minutes of play, ending up with 20 points and nine rebounds. On a few possessions he secured the rebound and got out in transition with coast to coast finishes. This was to add to the way he assaulted the rim over and over with hammer like dunks.
Maker's half court buzzer beater at the end of the half gave Canada Elite and edge coming into the second half where they were able to maintain an eight point cushion.
Jordan Henry pitched in with 10 points, 3, rebounds, 3 assists and 3 steals; typical Henry fashion to be involved in so many categories.
Nickeil Alexander-Walker also poured in 17 points while going 50% from the field.
While they got the win, there are glitches that need to be addressed in order to close out games stronger. This squad needs to recognize and trust in making the pass ahead in transition as opposed to dribbling it up.
Both bigs for Canada Elite, Maker and Josip Vrankic are willingly good passers in the half court so an entry pass, followed by the guards and wings relocating off the ball will create better looks at the rim for this squad.
It would be a bonus to get Mattia Colangelo going early in games as he can fill it up when he gets hot early. His confidence is growing and we're seeing contribution in many ways. As long as Colangelo stays assertive and aggressive, he can be an important piece in this puzzle and earn a significant amount of playing time.
17U Canada Elite Features Justin Jackson and Thon Maker
New additions to this roster as well. Last night, Justin  Jackson and Thon Maker had their way and the team as a whole had a large amount of quality possession offensively but the defensive end was nothing of that sort until the second half, where Canada Elite full court pressure began to wear down on Atlanta Express.
I don't know what to make of this team yet, but one thing is for sure. They have to utilize their speed and not allow for the defense to set up whether off of maid baskets or defensive boards.
We saw glimpses of this, however it needs to be a part of their identity as a whole. This will make up for a glaring weakness that their 16U team does not have to deal with.
The glaring weakness on this team is their shooting. There are no spot up guys available, so instead they go to Thon Maker in the post to get the defense to collapse and double team.
It will be an interesting dynamic moving forward, lots to learn today as they add Huntington Prep's Jonathan Kabongo to the roster.