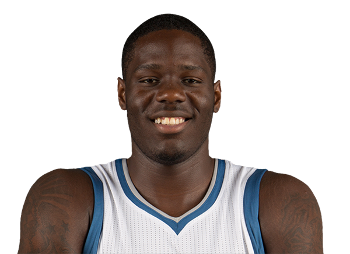 Anthony Bennett's best games
Anthony Bennett's second season in the NBA, and first in Minnesota, showed some improvement but still didn't give a clear picture of AB's future in the League.
In a series of post-season Roster Review stories on the Timberwolves official website, they profiled Bennett's best three games of the season. For the full story, video, offseason recommendations, and quotes view the whole story at NBA.com/Timberwolves
Anthony Bennett's Top Three Games Of The Season
Nov. 21 vs. San Antonio:
Before the game, Bennett said that it was a dream come true playing up against future Hall of Famer power forward Tim Duncan. While the Wolves struggled, falling 121-92, and Duncan played just 23 minutes, Bennett had himself a night.
Bennett played 32 minutes off the bench and scored a career-high 20 points, going 9-for-14 from the field to go with three steals. We got a glimpse of what made Bennett look so good throughout training camp: He was hitting his mid-range jumpers, something that was and should be a staple in his game. While this will likely extend to the three-point line at some point, this game proved that Bennett can been effective from mid-range (four of his nine buckets came 17-feet or deeper).
Jan. 7 at Phoenix:
Bennett helped the Wolves nearly upset the Phoenix Suns in this one, finishing with 14 points and 10 boards. He was efficient in this one as well, shooting 6-for-10 from the field. Again, Bennett's success was telling given his shot selection. He was 2-for-4 on shots 16-feet or further and 4-for-6 close to the basket.
Bennett was more impressive on the glass, hauling in a team-high 10 rebounds in just 22 minutes of play.
For you +/- lovers, Bennett posted a +2, one of three players to have a positive mark on this night.
Dec. 6 at San Antonio:
The third game on Bennett's list is also against Duncan and the Spurs. Bennett's line is nearly identical to his game against Phoenix. The former No. 1 pick finished with 14 points and 10 boards off the bench while shooting 6-for-11 from the field. His range was on display again, as he shot 3-for-6 from 21-feet and beyond. He was also a perfect 3-for-3 at the basket.
This came after a stretch of plenty of playing time for Bennett, which isn't a surprise. Bennett plays much better when he doesn't have to worry about being pulled for making a mistake.
He had played 20 or more minutes in six of the last nine games after this game against the Spurs.
__
For more on Anthony Bennett. please read "Raised by Wolves," a three-part series by Devin Gray and T-Wolves bloggers Punch Drunk Wolves on Wiggins and Bennett in Minnesota.