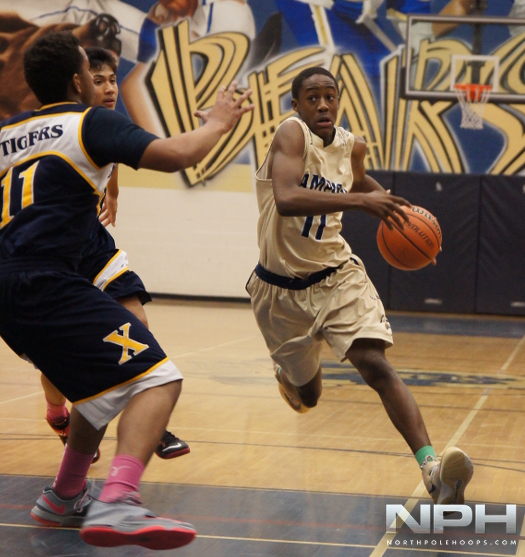 OFSAA Semi-Finals Set – St Mikes, Pine Ridge, Campion, FHC
WINDSOR,ON–My bracket is in shambles and that's what you can expect in March. Holy Names, while carried by Isaiah Familia made an unexpected run past both Eastern Commerce and MacNab before falling to Father Henry Carr. Holy Names was the bracket buster.
Four of the five top seeds are still alive; #1 seed St. Michael's, #2 Campion, #3 FHC and #5 Pine Ridge.
Two semi-final games will take place this morning, the first being Campion and Father Henry Carr, followed by Pine Ridge and St. Michael's.
The Campion Bears have proven to be the top Brampton team this year and now look to take the top spot in Ontario as a whole; only Father Henry Carr stands in their way of a finals appearance.
FHC has not been as dominant this season as we've seen them in previous years. There is a sense of identity building that is taking place very late in the season.
We are accustomed to seeing a run-n-gun, high tempo, in your face, full court team. They play their best when they're playing this brand of basketball.
One thing that Head Coach, Paul Melnik can bank on is that his Crusader troops will always come correct on defense, and in some games that's enough to do the trick. These boys often turn defense into offense.
The Campion match-up is an intriguing one because of the length on the roster and their ability to create tough shots for opponents. More so, the Bears have an elite play maker in freshman guard Joel Brown and multiple scorers around him in; Marcus Anderson, CJ Bennett, Devonte Daniels and an output from Dylon Gregory.
In the other semi, Pine Ridge will be facing a St. Michael's team that has won all their games up to this point by an average margin of 21 points.
In order for Pine Ridge to stay in this game, the big three of Jordan Henry, Nevell Provo and Chase Vassell need to be at their best.
Head Coach of the Pine Ridge Pumas, Cam Nekkers echoes this by saying, "In order for us to compete with St. Mike's, I need at least two of those guys to be on their game."
"We've been close with them before, like when we had a lead on them at Freeds, and then they did their St. Mike's thing and hit six threes to take the lead."
So the question remains, can Pine Ridge beat St. Mike's?
I don't feel so, and I'm not just saying Pine Ridge. They have a perfect Canadian record because they execute like no other team can. High percentage shots are taken by high percentage shooters.
Campion and FHC present better matchups
Pine Ridge has proved me wrong in my bracket and if this is going to be another one of those times then all power to them, but they're going to have to put on a show like OFSAA has never seen before.