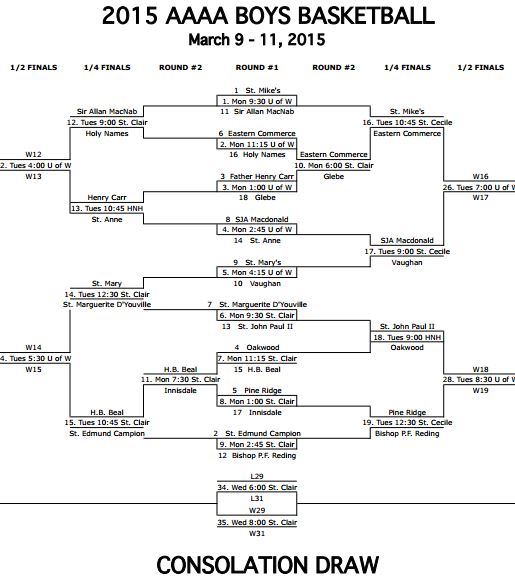 OFSAA Day 2 – Nedim Hodzic on a Mission, Hellish Bracket To Finals
WINDSOR, ON–If you're following along with live updates on Twitter then you know by now that home team Holy Names upset Toronto's Eastern Commerce early on day one, 55-54 on a buzzer beater by Isaiah Familia to kick off 2015 OFSAA Championship.
This doesn't eliminate the Eastern Commerce Saints nor does it pose Holy Names to be a big time threat for OFSAA gold; instead the Saints will face the St. Michael's Blue Raiders earlier than anyone would like to.
If the Saints lose today then they will be knocked into the Consolation Draw.
In other games, Vaughan unleashed against St. Mary's with a strong second half where senior small forward Kordeiro James put together a 21 point game to go with two hand fulls of rebounds. James was the X-factor in this game, making key defensive stops that would help Vaughan begin building a healthy lead.
Vaughan will take on a very hungry Sir John A MacDonald who will have a slight edge in post presence with Brett Parrott and Nedim Hodzic.
Hodzic's name has come about in many conversations with college coaches as most are impressed with his relentless pursuit of rebounds and ability to run the floor in transition.
Moreover, Simon Petrov is a 2017 prospect who is putting up numbers for SJAM. The options on offense are there for this team. It will be the first game this morning before watching the two Toronto teams mentioned above go at it.
Another Toronto team in the mix, Oakwood, should be able to take care of Tuesday's business meeting after breakfast against Pope John Paul II. Starting guards Calvin Epistola and D'wan Williams bring Championship experience from last year; they got a taste of it and they want more before going off to university.
On the other side of the bracket, it's a hellish road to get to the finals.
Campion? D'Youville? FHC? Who's it going to be?
I'm not going to count out MacNab just yet either, they are capable of handing out the second upset of this tournament against FHC.
The other high profile game that is anticipated to be a war zone is St Marguerite D'Youville vs St. Mary's. D-Y holds a 2-1 record in this matchup. At OFSAA, the stakes will be the highest with two full rosters and the big stage. It should be one of the more entertaining, high tempo games of the entire tournament.
Anything can happen on day two…anything except St. Michael's not making it to the finals on day three. This is the only statement about the tournament that I can say in full confidence.
Here what it looks like so far.