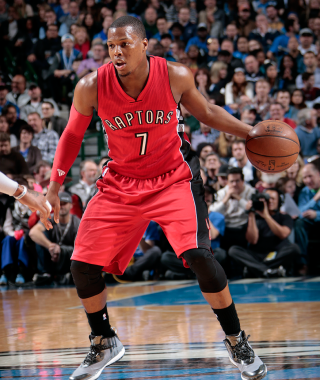 Raptors Wrap – If It Ain't Broken
Same Old Raptors
In the Warriors locker room before their matchup with the Raptors, Golden State had their whiteboard game on another level. Clearly marked out was Toronto's game plan, strengths, weaknesses, with hacks written that had every Raptors' number.
Golden State head coach Steve Kerr told NPH and assembled media before the game, "They're well-coached, they play together. They've got a lot of depth."
But despite the talent, depth, and Dwane Casey's best efforts, the team has struggled and stagnated on offence of late.
Under pressure the Raptors forget to move off the ball, get caught dribbling into tough midrange shots, and attempt too many heroic heaves – possibly a byproduct of too much success too soon getting to their heads.
The talent on the team is good, that we can't debate. That we're even questioning "What's wrong?" with a team thriving at second spot in the Eastern conference and well on its way to its first 50-win season speaks to the outsize expectations. But they can't get selfish. Against Golden State, James Johnson was the lone Raptors starter to record an assist.
When they get selfish, they get predictable. And then their whole gameplan can be written in black and white before the game even starts.
Aside: Toronto paid respect to Mo Pete and it was great
https://www.youtube.com/watch?v=3LCltIzXq5U
Would The Real Terrence Ross Please Stand Up?
When it became evident that Terrence Ross's slump was an ongoing issue, 40 games into the season Dwane Casey replaced him in the starting lineup with Greivis Vasquez and later James Johnson.
At first this was a move intended to rattle Ross's cage and wake up the third-year wing. But now it seems like Terrence starting again this season is a long-shot.
Can we talk about it? There's been an unspoken hush around Ross and The Slump. The purple elephant in the room.
Let's look at the numbers:
2013-14, as a starter (62 games): 29min, 12.2pts, 42/40/85 shooting.
2014-15, as a starter (40 games): 27min, 11.1pts, 41/37/88.6
Last 15 games, off the bench: 20min, 6.9pts, 37/34/70
Last 7 games: 18.5min, 3.0pts, 18.9/23.5/50
He busted out a bit with __ points in extended garbage minutes in the Golden State blowout, but Ross is supposed to be part of something special here. He needs to find himself.
An ideal Terrence Ross is still the ideal wing player for this Raptors team. That's why Masai kept his phone on silent at the trade deadline and if Ujiri believes then we should too.
WeTheFourth?
Slip-ups against the Pelicans, Rockets and Mavericks in the past week have highlighted a trend where Toronto has been shrinking in the ends of games.
The Raptors gave up large leads and showed a lack of discipline and heart. Nobody stepped up to swing the momentum back in the Raptors' favour.
Oddly, the fourth quarter was Toronto's strength just a short time ago when fans subbed #WeTheNorth for #WeTheFourth.
The Raptors were best in the NBA in fourth quarter point differential in 2014 (+195). Coming into Friday's contest they were 29th since January 1st (-74).
It's a trend that's become troubling and speaks to the team's inability to surprise opponents. Have teams figured the Raptors out or does Toronto have a few more tricks up its sleeve?