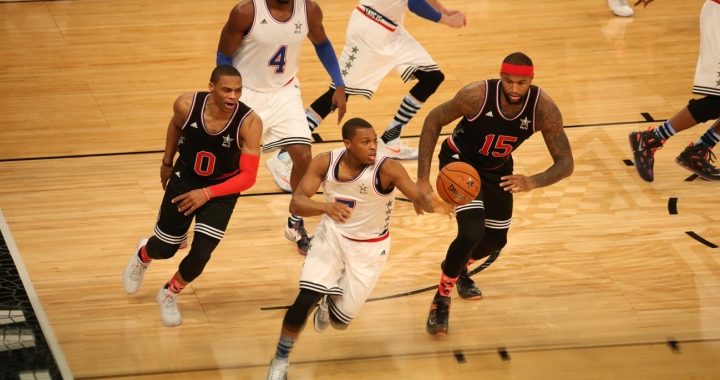 Raptors Wrap – Lowry Takes Manhattan
Get Tough
Heading into the All-Star break the Raptors had won 9 of their last 11 games, a solid rebound from their January swoon.
Defensive adjustments have boosted Toronto, particularly the placement of James Johnson in the starting lineup. He's a more physical presence than Terrence Ross or Greivis Vasquez and his size allows DeRozan to play at his natural 2-spot.
Johnson also asserts himself on the offensive end in a starters role making the Raptors a more intimidating opponent. In nine total starts this season, Johnson is averaging 11.6 points, compared to just 7.1 off the bench.
"We need his physicality on both ends of the floor," head coach Dwane Casey said before a late-January game. "He gives teams matchup problems offensively. Defensively, he gives us that size and toughness that we need in the paint, and the rebounding that we need."
The Raptors will need the added toughness as they return from their All-Star break on the road in Atlanta, Houston, New Orleans, and Dallas before returning home on Feb. 27 to host the West-leading Warriors.
Lowry Takes Manhattan
One player who should be ready to roll is Raptor All-Star Kyle Lowry, voted in by the passionate #WeTheNorth fans after a deserving first half of the season.
The All-Star format is not typical to Lowry's game, who raises his compete level when the chips are down and the game gets tough. Playing against the best can bring out the best in Lowry, but not in a meaningless midseason affair.
NPH asked Lowry following Toronto's win over Washington just before the break if the level of talent would help him raise his game.
"Just go out there and do my job," Lowry replied. "I can't go out there and try to do something I can't do best. I just do my job. [at the All-Star Game] I'm gonna go out there and just have fun, that's what I'm going to do."
Lowry went out and had fun alright; scoring 10 points with an East-leading eight assists, and following a missed shot for a putback dunk (!) – Lowry's first slam since 2009.
https://www.youtube.com/watch?v=4KJpraxELJc
Even before the break Lowry was being tested by the best and proved himself worthy of his All-Star point guard status.
In three consecutive wins over the Clippers, Spurs, and Wizards, Lowry went head-to-head with Chris Paul, Tony Parker, and John Wall, each time leading his team to victory.
All this to say, Lowry must sit firmly in the Top-5 point guard discussion at this point in the season, a stacked talent pool.
DeRozan was taking 10 or more free throw attempts in each of those past three wins, demonstrating increasing confidence in his step to get to the basket. In the 13 games before that stretch and since his return from injury, he only topped 10+ free throw attempts twice.
A more aggressive DeRozan, a confident Lowry, and an energized James Johnson takes care of the starting backcourt rotation, but the men in the middle remain a work in progress.
Trade Deadline Rumblings
Amir Johnson has good and bad showings, but is the heart of the team. Jonas Valanciunas has started to appear in fourth quarters, but is still a defensive liability. Patrick Patterson has made the most of his minutes, but he's undersized as are Chuck Hayes and Tyler Hansbrough.
Which has led the trade talks to explore other post options including Miles Plumlee, Kenneth Faried, David West and Taj Gibson, none of which add exceptional size or could be had on the cheap.
Canadian forward Andrew Nicholson has been rumoured on his way out of Orlando, and fits the desire for Raptors frontcourt depth, but wouldn't provide any more interior presence than any of the aforementioned potential targets.
The one guy we haven't mentioned, Terrence Ross, has been ghostly of late, but his game has far from peaked. Any deal involving Ross would be tough to accept because the locker room stands behind him, the Raptors need his punch in the backcourt, and he still has the potential to be the long-term solution alongside DeRozan on the wings.
Don't expect much activity at Thursday's 3pm trade deadline.