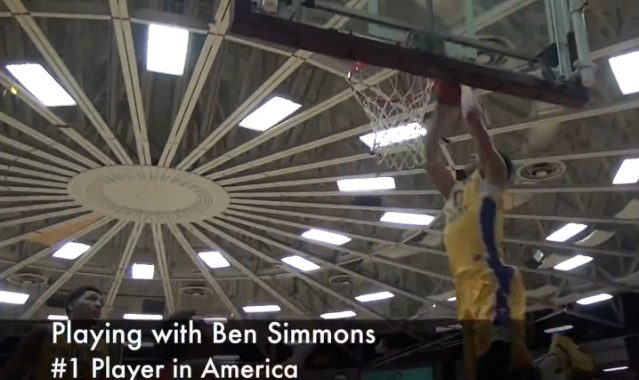 Howard Washington – Playing With #1 Player in America
Back across the border after the conclusion of the annual Spalding Hoop Hall Classic which took place in the birthplace of basketball, Springfield, Massachusetts. Highlights are still rolling from memory of Howard Washington Jr. and Ben Simmons control of the game against Bishop Gorman (Las Vegas, NV) in a nationally televised game on ESPN.
A large group of Canadians participated over the four days but Howard Washington Jr. looked like the top dog in this outing.
Miami and Wake Forest were the last two schools to offer this high IQ, 6'2, point guard.
The latest to show interest have been Iowa, Xavier, Ohio State, LSU, Maryland and Stanford.
Last year with Chris Egi at Montverde we got to see the tandem of D'Angelo Russell and Ben Simmons in DICK's Sporting Goods National Invitational in championship fashion. With Russell now at the collegiate level with Ohio State, Washington Jr.'s move from Canisius High School to Montverde was a timely fill-in.
Howard Washington is just one representative of the high level Canadian guards entering college and the NBA over the next few years. He is arguably the top pure PG in the Canadian 2016 class and is in his Junior year at Montverde Academy in Florida with the Eagles.
His teammate, Ben Simmons is a future lottery pick, maybe the TOP overall. This versatile forward put on a show and has a tournament high 36 points to go with his nine rebounds and three steals.
Simmons is committed to the LSU Tigers for next season, expected to be a program changer in what will be likely his one and only year in the NCAA.
Because these Eagles have such a good feel and understanding for the game, their overall IQ and awareness of space to operate turns into highlights almost effortlessly. With both Washington Jr and Simmons playing defense at a high level too, entertaining fast break possessions are a sure to happen.
"Howie" made his presence felt in multiple stat categories finishing with eight points, three rebounds, eight assists and 8 steals.
Howard Washington Jr. is a  Buffalo native holding a Canadian-American dual citizenship. He had Canada on his chest this past summer in Dubai while playing with the Cadet National Team.
In the video above, he describes what it's like playing with Ben Simmons, the number one player in America.