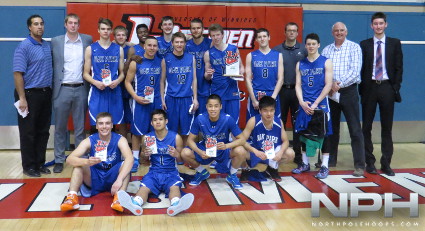 William Sesay, Oak Park End Garden City Streak at Wesmen Classic
The streak is no more.
Thanks to the Oak Park Raiders, the Garden City Fighting Gophers weren't able to extend their consecutive record of Wesmen Classic Championships to five. However, Garden City didn't let their streak go easily, putting up a fight against a big Oak Park squad for a final of 77-68.
Oak Park, a NPH Top 25, nationally-ranked tean, came in with big expectations. Despite only having four games under their belt so far this season, the Raiders had sound chemistry between the players who have been playing together now for almost four years.
Tournament MVP William Essay took control of the game and steadied the ship for the Raiders.
However, the first quarter belonged to Garden City who came out with strong pressure and had the crowd behind them, forcing Oak Park turnovers and taking advantage.
The tide started to turn as Sesay went after it and was attacking the basket.
It was indeed an MVP performance in the final, finishing with 32 points and 19 rebounds leading the team in both categories.
The Fighting Gophers refused to give up and roll over and Marcel Arruda-Welch hit a couple of big three's to make it interesting late in the game, but it wouldn't be enough as Oak Park would hold on for the victory.
Oak Park, now 5-0 on the season, will continue with league play here in Manitoba and will play in the highly competitive Silver Fox tournament where they match up against some of the best from Ontario.
Head Coach John Lundgren spoke after the game on the performance. "Sesay was the difference tonight, he had a monstrous game for us, and he kind of carried us through a lot of parts where we weren't real good on offense.
"Sometimes you just need one guy to put you on their back. He did that for us in big stretches of the game for us."
Stat Lines
Oak Park
William Sesay – 32pts, 19rebs, 3asts, 3stls,
Nik Zorcic – 18pts, 6rebs
William Kohler – 15pts, 16rebs
Wyatt Tait – 10pts, 16rebs
Garden City
Marcel Arruda-Welch – 20pts, 7rebs
Trezon Morcilla – 16pts
Jacob Penner – 14pts, 11rebs
Tournament All-Stars
Tournament MVP – William Sesay (Oak Park)
Tournament All-Stars
Dharmjit Dhillon (KEC)
James Wagner (John Taylor)
Marcel Arruda-Welch (Garden City)
Trezon Morcilla (Garden City)
Nik Zorcic (Oak Park)