St. Michael's Travels to Binghamton,NY for Mirabito Stop-DWI Classic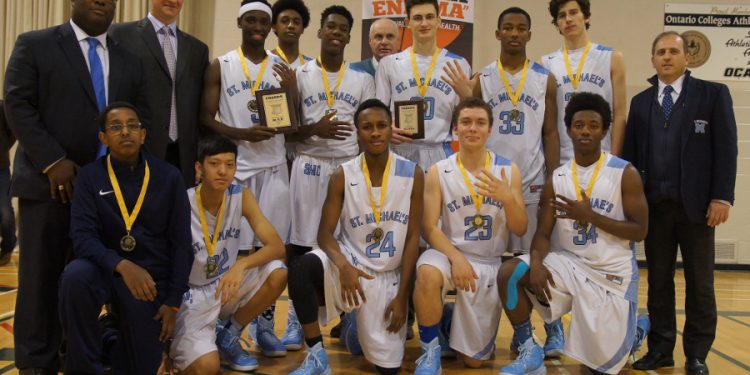 BINGHAMTON,NY–St. Michael's College School looks to extend their win streak and improve upon their resume this week as they compete in the Mirabito STOP-DWI Holiday Classic in Binghamton, New York.
This tournament is put on with a strong message in mind. Driving drunk has deadly consequences, an important reminder during this festive season.
Mirabito STOP-DWI Holiday Classic has both National and Regional Divisions with teams coming in from all over the state of New York, Pennsylvania, Virginia and of course the province of Ontario.
SMC has been invited back for the second straight year, after a fifth place finish (2-1) and strong showing in 2013 where they opened up with a two point loss to Christ the King, who ended up winning it all. The St. Michael's Blue Raiders are back to leave a stamp in the Northeast of the U. S. of A.
Canada's #1 team is 20-0 so far this season. Over the past two years 61-4, and 108-6 over the past few seasons. That's a total of 10 losses in two and a half seasons.
156-10 over four years. This is dominance.
The Blue Raiders' last Championship on American soil was won in Texas a month ago at the St. Thomas High School Invitational.
"A lot of the American teams still think that Canadian teams can't compete. Our teams are still underestimated when we come across the border. In Canada we have a target on our back, in States it's actually quite the opposite, they're not really concerned when they hear that they're playing a Canadian team," explained Head Coach, Jeff Zownir.
The Blue Raiders play their first game of the tournament against Buffalo Nichols, who happens to be retired Leaguer (NBA), Christian Laettner's Alma matter.
This Buffalo squad is a private school team who competes in the same league as St. Mike's in every sport except basketball. The chances are, that unlike their American counterparts, these guys have done their research.
Danilo Djuricic in Dunk Off
Danilo Djuricic has been known to use his athleticism mainly on the defensive end, but in the past few weeks he has caught a few alley-oops that have made us raise our eyebrows.
The evolution of this 2018 forward is coming along nicely, his versatility is his strongest quality.
At the Mirabito STOP-DWI Holiday Classic he will have a chance to show off his hops in the 2014 Slam Dunk Competition.
Nikola Paradina & Nelson Kaputo in 3 Point Shootout
Nik Paradina has the rep, he simply can not be left open in any game. The utmost confidence and smooth form keep him locked and loaded to snipe with range.
Tonight he and Nelson Kaputo represent St. Mike's in the three point shootout in Binghamton.
Kaputo's spent a lot of time getting off reps and tightening up his form. His improved stroke from three point land has paid off and been on display in the last few tournaments.
However, if I'm picking the go-to snipe show, I'm taking Nikola.
Mirabito STOP-DWI Holiday Classic Schedule
National Division (December 27th)
Bishop Loughlin (NY) vs Landstown (VA) – 1:00 pm
Roman Catholic (PA) vs Westhill (NY) – 2:45 pm
Wings Academy (NY) vs Emmaus (PA) – 5:45 pm
St. Michael's (T., ON) vs Nichols (NY) – 9:15 pm
Regional Division I
Norwich vs Owego Free Academy – 11:15 am
Kennedy Catholic vs Binghamtom – 7:30 pm
Regional Division II
Moravia vs Whitney Point – 11:15 am
Windsor vs Sidney – 7:30 pm