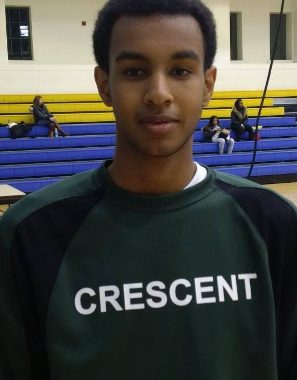 Simon Mikre – Soft Spoken, with Big Game
Simon Mikre of Crescent was a pleasant surprise at the Eastern Commerce Holiday Classic.
Named a tournament all-star, he played just like one.
Against Eastern Commerce in the EC Holiday Classic semis, it was Cresecent's biggest game of the season, and they showed a tonne of competitive fire as a team, a reflection of their coach Ari Hunter.
Despite the loss, Mikre showed his ability to dominate the game with his vision and play making abilities–strong ball handling and craft, combined with skill and feel for the game.
Like a true point guard, Mikre is able to see plays before they develop, and as a result draws defenders in to find the open man–he attacked the heart of the defense to put teammates in scoring position for easy lay ups, while he also attracted defenders, making tough skip passes to the weak side.
Mikre's performance did not go unnoticed; already being recruited by York and Western University, Carleton has also expressed interest.
In chatting with him, there was a genuine sense of humility.
Soft spoken, with big game.