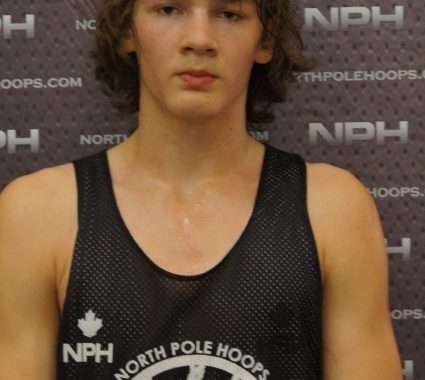 SJAM, St Marys only KW teams left in Heinbuch Classic
This was my second time attending the Heinbuch Classic, a great basketball tournament, but an even better event.
With the help of Michael Schmitt, Bill Hadley, and tons of volunteers, in its 31 years of existence the Heinbuch Classic has helped provide athletic bursaries for disadvantaged youths in the Waterloo High School Board.
These bursaries have a total value of $2,400 granted to four students to help them attend basketball camps during the summer.
Since the inception of the bursary program almost $43,000 has been raised for ninety-seven under privileged students to attend these summer basketball camps.
So kudos to everyone involved in making the Heinbuch run so smoothly, and showing everyone that basketball helps strengthen the community as a whole.
And oh by the way, there was a few basketball games that also took place Friday.
After sixteen games played at RIM park throughout the day four teams remain in the hunt for the Heinbuch Classic.
Sir John A Macdonald (SJAM) will square off with Oakwood and St. Marys will face McNab.
SJAM features thir own big three that makes them one of the most talented teams in the Heinbuch.
When it comes to heart no one ever outplays Nedim Hodzic.
The six foot five inch forward was a terror on the boards, as per usual, and also did his fair share of scoring, notching 31 points against Eastwood in the semi finals.
To go along with the rugged play of Hodzic, six foot eight Brett Parrott has been a defensive stud.
The SJAM centre has a great knack for the ball, and always positions himself defensively to help block, take the charge, or change his opponents shots.
SJAM's Simon Petrov has also been a treat to watch as his ability to get his teammates involved, and also score for himself has made him one of the best point guards at the Classic.
Don't forget though. Oakwood also has a pretty good point guard in Calvin Epistola.
The 2014 NPH showcase MVP has had his typical efficient game on display, making the right shot or pass when need be, so this point guard matchup will be something to watch.
At the other guard, Dwan Williams has been lighting it up for the Oakwood Barons.
In both games, Williams has led Oakwood in scoring notching 23 and 29 points respectively.
However, Oakwood's team is more than just two players, and as long as coach Anthony Miller is at the helm the Barons will put all of there focus on defence.
On the other hand, the St. Marys Eagles are finally starting to look like what we here at NPH thought they were – one of the best teams in the nation.
Along with Tesloth Simon, Tyrique Thompson, Jermaine Lyles and Jamari Stevenson are finally bringing that veteran leadership that was heavily lacking.
The Eagles have won their first two games by an average of 36 points.
But the MacNab Lions won't kneel that easily seeing as they are one of the toughest teams in the Heinbuch.
Shai Alexander and Sam Jenkins give the Lions two deadly three point shooters, while Khaleem Bennett and the rest of the squad focus on playing lock down d, a term you'll hear them refer to as ICE on the floor.
Tip off will begin with SJAM taking on Oakwood at their own gym in Waterloo at 12:15, followed by St. Marys and MacNab at 1:45.