Emery Eagles Pick up First Tournament Title, Defeating Home Team Vanier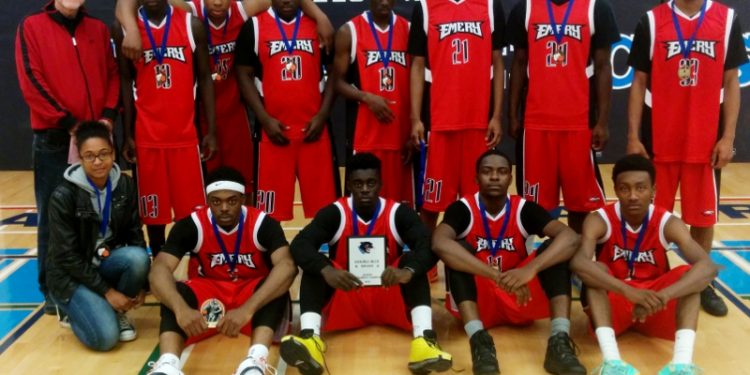 "I think we're close, but we lack the focus that it takes down the stretch…maintaining that focus through four quarters is the biggest thing for us."
Emery Head Coach Bob Maydo spoke on what it will take for the Eagles to defeat the upper echelon of teams within the province.
As it stands, Emery is on the outside looking in of the NPHTop25 National Rankings.
While they have come close against the likes of Eastern Commerce & Martingrove, the team hasn't been able to get over the hump.
This weekend, Emery won the Double Blue tip off against the home team Jean Vanier 50-40, with 2016 guard Moshe Wadley earning MVP honours.
With the loss of Jordan Holness (transfer to Trinity International in Las Vegas), Wadley will be looked upon for leadership on thie Emery team, and as he is adjusting to his new role, senior point guard Nathan Darko really stood out with bringing all the intangibles to the game–communication, positive energy, encouraging teammate and defending with purpose.
"I thnk he brings a lot," said Maydo. "He's a great team player, whether he's on the bench or on the court. He's better now than he was a month ago. Hopefully a month from now, he's going to be even better."
It will be important for Darko to positively challenge his teammates to match his energy, as it will ultimately take the group to new heights.
Side Note: Nathan Darko was wearing Adidas' "The Kobe" shoes, classsssics.
Back on topic, this team has capable athletes including Lucky Osugwe, Dante Stoddart, DJ Atkinson and Tim Simon, all who have shown the ability to attack the rim strong or knock it down from outside.
The make up of Emery is very guard oriented and in order to stifle opponents they will have to be disciplined while applying pressure.
"We are more defensive focused, and hoping to get better as the season goes on offensive," Maydo told North Pole Hoops.
"I haven't had a big man for quite a while. To be honest with you, when we're playing against teams, we can switch any screen."
The victory against Vanier should provide the team with confidence moving forward, but it will be interesting to see if this squad can climb the ladder in the coming months.