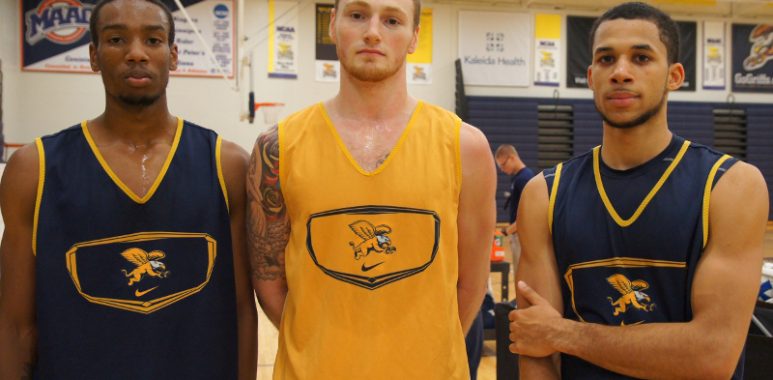 Canadians at Canisius – Jamal Reynolds, Cassidy Ryan, Kassius Robertson
North Pole Hoops made a trip to Buffalo to check up on the Canadians at Canisius–Jamal Reynolds (Ajax, ON), Cassidy Ryan (Mississauga, ON) and Kassius Robertson (Vaughan, ON).
With continued work, the trio will have an opportunity to be producitve for Canisius this season as the Golden Griffins lost over 70% of offense from last years team, primarily with the loss of Billy Baron MAC player who averaged 24 points, four rebounds and four assists for last year's team.
Chris Perez (13 PPG) Jordan Heath (10 & 5) and Chris Manhertz (8.4 PPG, 6.9 RPG) were other key losses for the Griffins.
In speaking with Head Coach Jim Baron, he continued to stress that the team will be a work in progress, as they grow throughout the season and learn to pick up on the speed and style of play.
Outside of the Canadians, the Griffs have some solid pieces to work with in quick lead guard, Jeremiah Williams, 6'9 athlete Josiah Heath and 6'10 Kevin Bleeker of the Netherlands.
Expect Jamal Reynolds to be effective in the open court for Canisius this season, due to both his physicals and high motor. He will also produce in the rebound department. He was a Canadian junior national team member and lead the Greater Toronto Area in Scoring in his days at Pine Ridge–quite an accomplishment,
Kassius Robertson is an absolute work horse, whose career has been on a steady incline for as long as we can remember from his days both at Vaughan Secondary and Thornlea. I had an opportunity to see him this summer in work out enviornment–no doubt he takes his craft seriously as he set a new 250 Test record (beating score of Duane Notice, Kevin Pangos and others)
It will be interesting to see how Casssidy Ryan translates at the NCAA level after essentially a year removed from high school competition at Mount Carmel. However, the 6'7 lefty provides size, athleticism and versatily for Coach Baron.
Canisius VS Ryerson – NCAA VS CIS
Canisius will take on Ryerson University, one of the top programs in Canada on Saturday, October 31 in Buffalo, which will be a good test for both teams before kicking off official season.
Notable Canadian match ups include Aaron Best VS Jamal Reynolds, Jahmal Jones VS Kassius Robertson and Bjorn Michaelson VS Cassidy Ryan.
Ryerson Head Coach Roy Rana likes the pieces on his team, as its be a veteran squad with a nucleus that has grown together over the years.
I will certainly be tracking that pre-season match up.