Canadians in NCAA Basketball – 2014-2015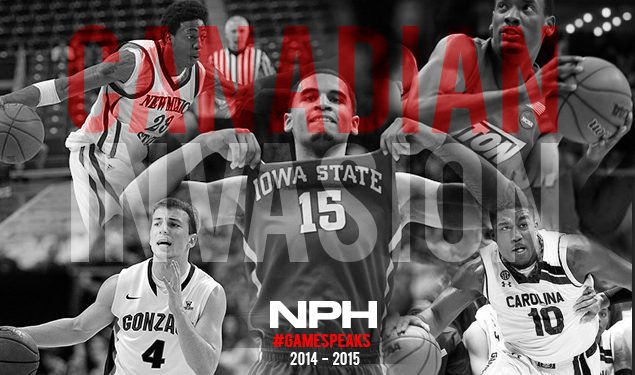 Follow @NorthPoleHoops for all your Canadian Basketball Coverage! #NPH
Last year, Canada reached a high of 104 players in NCAA Division one basketball, several of them being impact pieces to programs from low to the high major levels.
Names such as Andrew Wiggins, Nik Stauskas, Tyler Ennis, Dwight Powell, Sim Bhullar and Brady Heslip moved on to the NBA, while several others continue their basketball careers, signing professional contracts overseas.
For the 2014-2015 season, we at North Pole Hoops have compiled an up-to-date list of Canadians in the NCAA, that currently stands at 105–one higher than last year.
The Canadian Invasion in NCAA basketball will hold strong as seniors will make their mark on the National stage, big time transfers will settlle in, while newcomer freshman look to make their mark!
Regional Break Down
Ontario – 66
Quebec – 18
British Columba – 11
Alberta – 4
Saskatchewan – 2
Nova Scotia – 1
New Brunswick – 1
–
Missed a player that would qualify for the Canadian NCAA List? Email Info@NorthPoleHoops.com
2014-2015 – Canadians in NCAA Basketball
NAME | COLLEGE | HEIGHT | POSITION | YEAR | PREV. SCHOOL | HOMETOWN
Players are listed alphabetically (A-Z).
Aaron Ariri | Troy | 6'8 | PF | R-FR | Elite 1 Academy via D'Youville | Brampton, ON

Agunwa Okolie | Harvard | 6'8 | F | JR | Archbishop | Dennis O'Connor | Ajax, ON

Alex Hart | UC Santa Barbara | 6'11 | C | SO | Immaculata | Kelowna, BC

Alex Paquin | American | 6'1 | PG | FR | Champlain-St. Lambert | Montreal, QC

Ben Millaud | St Francis | 6'1 | G | JR | Vanier | Montreal, QC

Bikramjit Gill | Ball State | 6'8 | PF | JR | Owens JUCO | Brampton, ON

Braeden Anderson | Fresno St | 6'9 | PF | JR | Wilbraham&Monson | Calgary, AB

Brandon Bos | South Dakota | 6'3 | PG | JR | Markham District | Markham, ON

Branon Busuttil | Bowling Green | 6'4 | G | 

 St. John's-Kilmarnock/ Grand River | Kitchener, ON

Braxton Bunce | Cornell | 6'11 | C | JR | Kelowna Secondary | Kelowna, BC

Cassidy Ryan | Canisius | 6'6 | F | FR | Mount Carmel | Mississauga, ON
Chris Egi | Harvard | 6'9 | PF | FR | Montverde via St Andrews | Markham, ON

Chris McComber | Columbia | 6'7 | F | SO | John McCrae | Ottawa, ON

Dallin Bachynski | Utah | 7'0 | C | SR | Southern Utah | Calgary, AB

Daniel Mullings | New Mexico St | 6'1 | G | SR | Laurier | Toronto, ON
Daniel Nwosu | Montana | 6'1 | SG | JR | Casper JUCO | Ottawa, ON
David Andoh | Liberty | 6'7 | PF | JR | Merritt JuCo | Montreal, QC

Denzell Taylor | Old Dominion | 6'6 | PF | SO | St. Benedicts | Brampton, ON

Dillon Brooks | Oregon | 6'5 | SF | FR | Findlay Prep via Henry Carr | Mississauga, ON
Dinjiyl Walker | Oklahoma | 6'1 | SG | JR | Iowa Western JUCO via Vaughan SS | Thornhill, ON
Drew Urquhart | Vermont | 6'8 | F | FR | St Georges | Kelowna, BC

Duane Notice | South Carolina | 6'2 | SG | SO | St. Mikes | Woodbridge, ON

Dustin Triano | Gonzaga | 6'1 | PG | RFR | New Hampton Prep | Tsawwassen, BC

Dylan Ennis | Villanova | 6'2 | PG | JR | Lake Forest | Brampton, ON

Dyshawn Pierre | Dayton | 6'7 | F | JR | Anderson Collegiate | Whitby, ON

Emerson Murray | Seattle | 6'3 | G | SR | St George's | Vancouver, BC

Emmanuel Owootoah | Fresno St | 5'10 | PG | SO | Martingrove | Toronto, ON

Erik Nissen | Maine | 6'9 | C | SO | Kennebecasis Valley | Quispamsis, NB

Francis Kiapway | Ball St | 6'1 | G | FR | St. Thomas More via MacNab | Hamilton, ON
Fred Duré | Arkansas St | 6'4 | SG | FR | Sheridan JUCO | Monreal, QC

Grandy Glaze | Saint Louis | 6'6 | F | SR | Notre Dame Prep | Toronto, ON

Grant Mullins | Columbia | 6'3 | PG |  JR | Notre Dame | Burlington, ON

Haboubacar Mutombo | Western Carolina | 6'5 | G | Notre Dame via Pine Ridge | Pickering, ON

Isaiah Watkins | Furman via Duquesne | 6'7 | PF | SO | St. Benedicts | Toronto, ON

Ishaq Pitt | Maryland-Eastern Shore | 6'3 | G | SR | St. John Vianney | Toronto, ON

Jadon Cohee | Seattle | 6'4 | PG | FR | Walnut Grove | Langley, BC
Jake Babic | Appalachian State | 6'5 | SG | FR | Kiski via Loyola | Oakville, ON

Jake Newman | Lafayette | 6'6 | G | SO | WRCA- Hun School | Surrey, BC

Jalyn Pennie | New Mexico St | 6'6 | SF | FR | Christian Faith Center | Ajax, ON

Jamal Reynolds | Canisius | 6'4 | SG | JR | Mott JuCo | Pickering, ON

Jarryn Skeete | Buffalo | 6'3 | G | JR | Wasatch Academy | Brampton, ON

Jaylen Babb-Harrison | Eastern Kentucky | 6'4 | G | R-SO | J.Clarke Richardson | Ajax, ON

Joe De Ciman | Colorado St | 6'4 | G | JR | LeBuldus | Regina, SK

Jonathan Tshibuy | LIU-Brooklyn

 | 

6'5 | PF | Missouri State-West Plains JUCO | Montreal, QC

Jordan Robinson | Duquesne | 6'7 | PF | FR | Quality Education Prep | Toronto, ON

Josiah Moore | Tennessee Tech | 6'5 | G | R-SO | Norcross | Oakville, ON

JP Kambola | Marshall | 6'10 | SF | JR | St. Benedicts | Toronto, ON

Junior Fortunat | Rider | 6'9 | F | SR | Roman Catholic | Montreal, QC

Junior Lomomba | Providence | 6'4 | SF | SO | Cleveland St | Montreal, QC

Justin Edwards | Kansas St via Maine | 6'2 | SG | R-JR | Maine | Whitby, ON

Kadeem Smithen | Richmond | 6'3 | PG | FR | Thornlea | Thornhill, ON

 

Kassius Robertson | Cansius | 6'2 | PG | R-FR | Thornlea | Thornhill, ON

Kaza Keane | Cleveland St via Illinois St |

 

6'1 | PG | JR | Ajax, ON

Keanau Post | Missouri| 6'11 | C | SR | Southwest Illinois | Victoria, BC

Kemy Osse | Arkansas-Little Rock | 6'1 | G | JR | Archbishop Carroll | Montreal, QC

Kenny Chery | Baylor | 6'0 | PG | SR | State Fair JUCO | Montreal, QC

Kevin Blake | Elon | 6'2 | G | SR | Oakwood Collegiate | Toronto, ON

Kevin Ndahiro | Stetson | 6'8 | PF | FR | Thomas Nelson | Ottawa, ON

Kevin Pangos | Gonzaga | 6'2 | G | SR | Denison | Landing, ON

Kevin Thomas | Troy | 6'8 | PF | SR | Palm Beach St JUCO| Ajax, ON

Kevin Zabo | San Diego State | 6'2 | PG | FR | Brewster | Gatineau, QC

Kyle Wiltjer | Gonzaga | 6'9 | PF | RJR | Kentucky | Portland, OR

Lenny Austin | North Dakota | 6'1 | G | SR | Vanier | Montreal, QC

Link Kabadyundi | TCU | 7'1 | C | FR | Alma | Montreal, QC

Malcolm Duvivier | Oregon St | 6'1 | SG | SO | St. Michaels | Toronto, ON

Malcolm Henderson | Cal State-Fullerton | 6'8 | PF | JR | Missouri State-West Plains JuCo | MTL, QC

Manroop Clair | Seattle | 6'1 | SG | JR | Hawaii | Surrey, BC

Marial Shayok | Virginia | 6'6 | SF | FR | Blair Academy via St Patricks | Ottawa, ON

Marko Pirovic | Maine | 6'6 | PF | SO | Thornlea | Bolton, ON

Matt Willms | UTEP | 7'1 | C | SO | Findlay Prep | Leamington, ON

Matthew Atewe | Auburn | 6'8 | C | SO | Notre Dame Prep | Brampton, ON

Matthew Taylor | New Mexico St | 6'4 | SF | FR | Future College Prep | Brampton, ON

Mathieu Kamba | Central Arkansas | 6'4 | W | FR | Bishop McNally | Calgary, AB

Maurice Walker | Minnesota | 6'10 | C | SR | Brewster Academy | Scarborough, ON

Max Joseph | Valparaiso | 6'1 | PG | FR | Vanier | Monteal, Quebec

MiKyle McIntosh | Illinois St | 6'6 | PF | FR | 22 Feet Academy | Pickering, ON

Miroslav Jaksic | Grand Canyon | 6'10 | C | R-FR | Walled Lake Western | Windsor, ON

Montaque Gill-Caesar | Missouri | 6'5 | SG | FR | Huntington Prep via Vaughan | Vaughan, ON

Naz Long | Iowa St | 6'4 | G | JR | St. Martin | Mississauga, ON

Negus Webster-Chan | Hawaii | 6'6 | SF | JR | Missouri | Toronto, ON

Nemanja Zarkovic 

| 

Fordham | 6'3 | PG | FR | Jean De Brebeuf | Montreal, QC

Nick Madray | Binghamton | 6'8 | PF | SO | Stephen Lewis | Mississauga, ON

Olivier Hanlan | Boston College | 6'3 | G  | JR | New Hampton | Gatineau, QC

Otas Iyekekpolor | Central Arkansas | 6'7 | PF | FR | Lillian Osborne | Edmonton, AB

Patrick Steeves | Harvard | 6'7 | F | JR | The Hotchkiss School | Montreal, QC

Rashawn Browne | NMSU | 6'0 PG | FR | Bill Crothers | Toronto, ON
Richard Peters | Albany | 6'11 | C | SO | Tallahassee JUCO Pickering, ON
Riley Barker | Portland | 6'10 | C | SR | White Rock Christian | Surrey, BC
Rodell Wigginton | Buffalo | 6'5 | SF | JR | Central Florida JUCO | Dartmouth, NS

Shayok Shayok | UMKC | 6'7 | SF | R-JR | Bradley | Ottawa, ON

Shea Jones | Jacksonville | 6'1 | PG | FR | Santa Fe JUCO | Weston, FL

Stefan Cvrkalj | Lehigh | 6'5 | G/F | SR | Bluevale Collegiate | Kitchener, ON

Stefan Jankovic | Hawaii via Missouri | 6'11 | F | SO | Huntington Prep | Mississauga, ON

Stefan Nastic | Stanford | 6'9 | C | SR | Thornhill Secondary | Thornhill, ON

Tanveer Bhullar | New Mexico St | 7'2 | C | FR | Father Henry Carr | Toronto, ON

Tevin Findlay | Green Bay | 6'3 | SG | SO | IMG Academy | Mississauga, ON

Tevonn Walker | Valparaiso | 6'1 | G | FR | Vanier | Montreal, QC
Trae Bell-Haynes | Vermont | 6'0 | PG | FR | Bill Crothers | Toronto, ON
Tramique Sutherland | Bradley | 5'10 | PG | JR | Hill JUCO via Henry Carr | Toronto, ON
Tristan Etienne | Washington | 6'10 | PF | FR | WJ Mouat | Abbotsford, BC

Troy Reid-Knight | Maine | 6'0 | PG | SO | Thornlea | Thornhill, ON

Tyler Stone | Howard | 6'5 | SF | SO | Eastern Commerce | Mississauga, ON

Trey Lyles | Kentucky | 6'10 | PF | FR | Arsenal Tech | Saskatoon, SK

Xavier Rathan-Mayes | Florida St | 6'2 | SG | FR | Huntington Prep | Scarborough, ON

Yohanny Dalembert | James Madison | 6'8 | PF | SO | Lower Merion | Montreal, QC