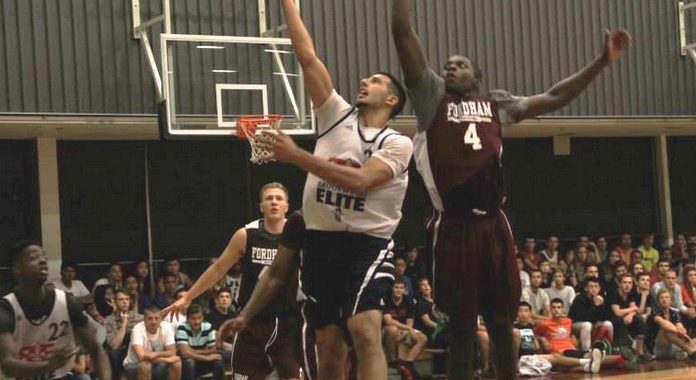 Fordham Hits Jackpot in Canada – Joseph Chartouny Commits to Rams
For the second straight year, Fordham has picked up an #NPHTop10 Canadian prospect…adding not only talented basketball players, but culture builders and program changers.
Last year, the Rams quietly scooped up Nem Zarkovic, who only had a handful of offers–a 6'3 guard that will make a splash in the A10 as the college basketball world will learn in due time.
For the class of 2015, Fordham has received a commitment from Joseph Chartouny, NPH #4-ranked prospect in the nation, who had offers from Princeton, Vermont, American and Green Bay to name a few.
After a visit to the Bronx in New York with his family, Chartouny followed his gut, although he intially planned on waiting until the spring to make a decision on his university plans.
"I just felt that my family was really comfortable, not only me, I was watching how they were asking questions and responding well," Chartouny told North Pole Hoops.
"I didn't commit because of one visit, it was about the process since last year, when they saw me and Nem."
Both Chartouny and Zarkovic played on the same prep program (Jean De Brebeuf) and the same AAU team (Brookwood Elite) and this past summer, Fordham took their foreign tour to Montreal, where they went 4-0, including a victory over Brookwood, where Chartouny put up a team-high 29 points.
"When they came to see me in Montreal…I also had a chance to watch them more than once," stated Chartouny.
The Quebec product will be studying business at Fordham, and found a great fit on and off the floor.
"I talked with a lot of great people around me…I don't think I could've asked for something better basketball and school wise," he said.
"Sometimes you just feel it in your gut…that's the place I wanted to be and I didn't have to wait. Now I can start thinking and focusing on my development," said Joseph, referring to the time commitment that the recruitment process takes.
Chartouny has an admirable maturity and calmness about him, understanding that Fordham is currently in the basement of the Atlantic 10 conference—a league that is strengthening their reputation by the year, having sent six teams last season into the NCAA tournament.
He is well aware of the building process that is in front of him, and clearly embraces it, "I wanted another challenge…I wanted to finish my years at Fordham and be challenged. Being able to play and have big responsibilities."
"I'm a very competitive guy…I hate losing."
While tracking Chartouny and Zarkovic, we at North Pole Hoops have learned about the competitive edge that they both share, which they use to feed off each other.
"It will be special being able to compete again with Nem…the three years we played together we won the provincial championship in Quebec," said Chartouny.
"Being able to do this with Nem, I think is the best thing that could happen…because i believe in him and I know he believes in me."
Zarkovic feels the same way, saying, "for me its very exciting…he's my best friend and we used to play together. On the court, it's a huge advantage for the team and it's a great opportunity to bring a guy in with the right attitude."
Chartouny mentioned that fact that it's going to be a full effort from each person on the team in order to climb up the A10 standings, and he knows that he still has much to prove at the NCAA level/
"They didn't guarantee me anything…coming in next year I know I have to earn everything…I will do whatever they ask me to do, I'll be ready for that."
Music to a coaches ears.