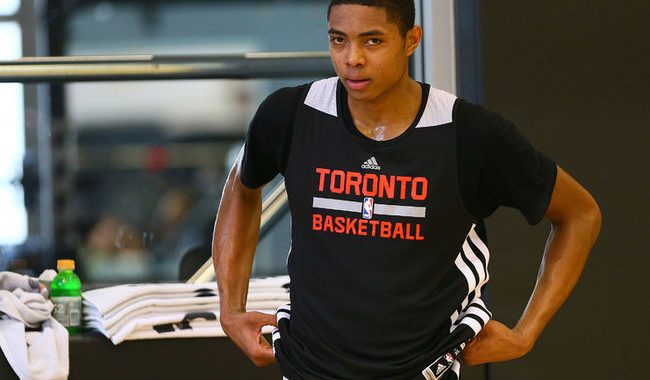 Bruno Caboclo Showing Major Signs of Growth
I remember being in Brooklyn at the Barclay's Centre for the NBA Draft, when we all heard Bruno Caboclo's name called with the 20th overall pick to the Toronto Raptors.
My immedate reaction was confusion.
I thought it was a typical Raptors move…draft the unknown that most (if not all) teams would have passed up on regardless.
I thought here we go again.
However, my reaction following confusion, was confidence, especially after researching the biggest unknown in the 2014 draft, back in the media room. When I read about Caboclo's physical tools combined with his youth, it blew me away.
But it was also confidence in Masai Ujiri, as he is the man that earned the trust of Raptor land through his production, and the success of the ball club in his time with Toronto thus far.
Oh, and the "F*** Brooklyn" saga gave him brownie points in the eyes of Raptor fans, adding a little off court grit and toughness to compliment the product on the floor.
Coming from a scouting perspective, every true evaluator of talent, (GM in this case), wants to leave their mark by discovering the hidden gems of the basketball world.
Although a risky move due to youth, Bruno Caboclo is Ujiris's hidden gem.
I had an opportunity to watch Bruno in a shooting work out with Raptors assistant coach Jama Mahlalela, where Caboclo was putting on a shooting clinic.
http://instagram.com/p/r7b2tEOHhn/?modal=true
This was my first time getting a live look at the 6'9 (7'6 wingspan) small forward from Brazil.
I walked away extremely impressed in terms of his shooting ability — has a smooth stroke and gorgeous touch. That being said, his centre of gravity was still higher than it should be on the catch– an area that the Raptors staff have been gradually addressing.
"He's not used to being low, it's a teaching tool for us,"  Mahlalela told North Pole Hoops.
Mahlalela also spoke on Caboclo's progress made this summer in terms of both skill development and strength.
"Bruno is finding his groove, as he has been getting reps up in preperation for the season."
"He has had a good summer of growth, has improved ten-fold," continued Mahlalela.
The Raptors assistant who has spent extensive time with Caboclo, said the next step is high level NBA competition.
In other words, Bruno will need to match up against guys like Demar Derozan, Terrence Ross, Amir Johnson, Patrick Patterson and James Johnson on a consistent basis to make the transition.
Watching Caboclo was an interesting experience for me, as the 18-year old falls right into my line of work, aggressively scouting and evaluating high school talent.
When you combine Bruno's youth, skill and physical tools, there is a lot to be excited about in terms of POTENTIAL.
Potential VS Production is a constant battle in the scouting world. To me, production is proof and generally, ultimately holds more weight.
However, when looking at potential or big time upside, you must measure intangibles.
Will a wealthy 18-year old that has "made it" maximize his potential?
Well, once again, that answer depends heavily on intangibles.
Work ethic, attention to detail, character, coachability, mental toughness; all these traits must be taken into account when projecting Caboclo's long-term value.
I know nothing about Bruno as a person, however based off what I saw at Ryerson two days ago, I can see why he was tagged as the "Brazilian Kevin Durant."
Now…I urge you to take that statement with a grain of salt.
Any time comparisons are drawn to young talent, people often take it out of context. The comparison comes from the fact that Caboclo is 6'9 with great length and agility for his size, combined with what I recently learned about his shooting touch.
KD (IMO) is the second-best player in the world, so of course Bruno is currently nowhere close to the reigning NBA MVP.
In speaking with Mahlalela, some of those intangibles seem to be present for Bruno.
"He wants to meet the goals of the drills, he is putting in the work."
The Raptors have him in a situation where Caboclo is not expected to come in and lead the Raptors in scoring.
Conversely, patience will be exercised with the youngest player in the 2014 NBA draft.
"He has so much room to grow…we aren't rushing him into anything," explained Mahlalela.
Raptor Nation has a lot to be excited about, given that the Brazilian specimen continues developing at this rate.
Bruno Caboclo could be ahead of schedule; he just might be closer than "two years away from being two years away."