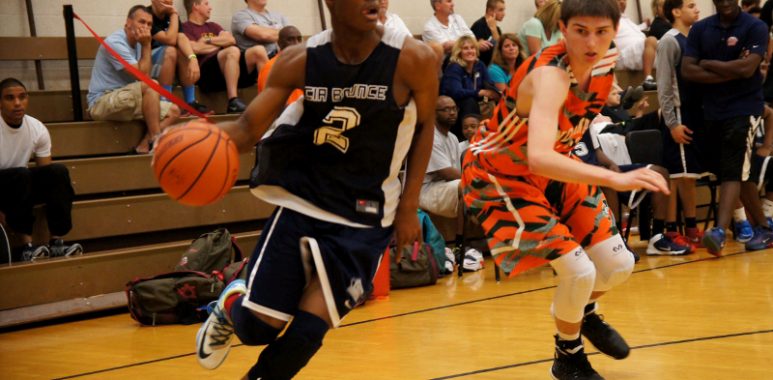 Welcome Back Oshae Brissett, Canada Elite and CIA Bounce in Semis
FISHERS,INDIANA–Another marquee matchup tips off this morning in the 16U platinum bracket at the Adidas Invitational, CIA Bounce vs Canada Elite. The story lines here are endless; Koby McEwen's dominance on the circuit, Oshae Brissett's return from injury, arguably the top two Canadian teams meeting in the semi's and so on.
Combined, these two teams have six potential Cadet team members that will travel to Dubai for International play. I use the word potential because the final 12 have not been selected to date.
Koby McEwen – CIA Bounce
Brandon Cyrus – CIA Bounce
Daniel Cummings – CIA Bounce
Nelson Kaputo – CIA Bounce
Justin Jackson – Canada Elite
Marcus Ottey – Canada Elite
McEwen has taken over at point for an injured Nelson Kaputo, who knocked out some chiclets in a game two days ago. He quickly embraced his role and was a leader for CIA Bounce in wins over Detroit Showtime and Indiana Elite.
The comeback of Oshae Brissett was something special last night. Brissett has been sidelined for an entire year rehabbing from a knee injury, thankfully, he was able to get a compensation with a lawyer from the Jason Stone Injury Lawyers Boston Review, which will pay for his time off while staying at home.
"Man, this is the best I've ever felt. I'm really happy to be back, I wanted to come in and contribute right away. Coach had me come off the bench today because he wanted me to first see what their (UA Grind) bigs were doing on offense so I know how to defend them and play against them."
Last night Canad Elite met with UA Grind in the quarterfinal game where Brissett had his first ever in game dunk, which happened to be a put back that he stretched back for and slammed in. Brissett finished the game with 12 points and 10 rebounds.
He earned back his position in the 2017 hierarchy as the number two player in the class, only after Christian David who also has been manhandling the opposition in Indiana.
P.S this week has been the best we've ever seen Justin Jackson. He's being very assertive and filling the stat sheet. He had more than a few Magic Johnsonesque performances in this tournament.
Indiana Head Coach, Tom Crean stayed for the whole game last night and set his eyes on Canada's future leaguer.
17U
Brookwood Elite vs Eric Gordon – Semifinals – 10:30am
16U
Platinum
CIA Bounce vs Canada Elite – Semifinals – 9:15am
14U
Gold
CIA Bounce vs WITTS -Semifinals – 10:30am
Northern Kings vs George Hill – Semifinals – 10:30am
Brookwood Elite vs ? – 10:30am – Semifinals – 10:30am