Chris Egi Breaks Out, Dillon Brooks Rollin as Canada Advances to Semi-Finals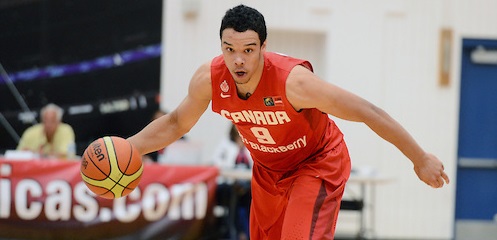 Canada is now 3-0 at the U18 FIBA Americas.
After comfortably defeating Brazil (101-59) and Dominican (79-67), Canada played what I thought was their best game against Puerto Rico, rolling to a 91-70 victory.
First and foremost, I would like to credit their team defense, which has been rock solid all tournament.
Offensively, they are looking sharper in terms of spacing and chemistry, moving the ball side to side, inside and out.
Secondly, Harvard commit Chris Egi broke out and did what should be expected of him at all times; high energy levels, running the floor and crashing the boards.
He did all that, and then some.
In addition to making life difficult for PR inside, Egi displayed an expanded offensive game as he finished on the interior, and hitting a fluid elbow jumper. Mechanically, this was the best I've ever seen him shooting the ball.
Egi's statistics backed it up too — 20 points, 14 rebounds and 4 blocks in 23 minutes.
On another note, Dillon Brooks continues to roll, getting what he wants and leading Canada once again with a game-high 26 points, 6 rebounds, 2 assists and 6 steals.
It's safe to say that the FIBA Americas tournament has been the Dillon Brooks coming out party…proving himself on the international stage.
In this game, Coach Roy Rana gave Brooks the start, after having him come off the bench in games one and two.
Starting shooting guard Corey Johnson did not play in this game due to a possible concussion, when he was hit yesterday against the Dominican (we will monitor the situation).
Rana and co. have done a solid job with rotations, having multiple contributors and keeping guys fresh on both ends of the floor. This will serve Canada well as we begin battling with the big dogs, AKA America and Argentina, both currently at 2-0.
Canada moves on to the FIBA Americas Semi-finals and will face the loser of USA VS ARG.
Tip off is scheduled for 5:15 PM Eastern Time.
Don't miss the action…Stay tuned on North Pole Hoops for the LIVE stream and coverage!
NPH Top Performers
Dillon Brooks – 26 pts, 6 rbs, 2 ast, 6 stls (9/17 FG)
Chris Egi – 20 pts, 14 rbs, 4 blks
Biniam GHEBREDIKAN – 8 pts, 9 rbs