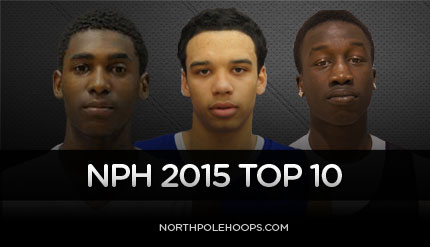 North Pole Hoops Top 10 Canadian Basketball Player Rankings – 2015
Canadian basketball national player rankings for the high school class of 2015; a lot has changed since our last official 2015 Top 10 release to begin the 2013-2014 HS season.
For Starters, highly touted British Columbia prospect Jermaine Haley has reclassified to 2016, which has opened up a new spot in the top 10. Ajax, Ontario's Obi Okolie (Brown Commit) slides in to 2015.
Obi Okolie Shooting up the Charts
In addition to lighting up the Durham region all high school season, Obi Okolie captured NPH Platform MVP in December, which featured Canada's top prospects. Originally part of the 2014 class, Okolie will do a post-grad year prior to suiting up for Brown University in September of 2015.
–
Did we mention QC is coming? Quebec has two representatives in the #NPHTop10 for the class of 2015, but there is much more talent to be discovered as we will get set to learn more about QC prospects through the Quebec #NPHShowcase coming this fall.
On the Incline
D'Andre Bernard is one to watch; we will pay close attention to his rate of development over the next six months and expect a major transformation in his game. A humble individual with the desire to be great. Blessed with unique physical tools, notably his pogo-stick  explosiveness, Bernard has plenty of room for growth, as his skill set catches up.
Sink or Swim
For student-athletes, it is important to note that the North Pole Hoops National rankings (NPH Top 100) are regularly updated throughout the course of the year.
Some players use rankings as motivation to be better, while others waste time complaining about them or become discouraged when "being slept on". There are prospects across the country working in the trenches and preparing for their moment…the moment to make their talent undeniable.
As always, the @NorthPoleHoops team will work to capture these moments, as we pride ourselves in learning about Canadian talent inside-out, evaluating in multiple environments and living in the gym.
For players that are both ranked and unranked, how do you react? Will you become complacent when you receive some notoriety, or will you refuse to settle for mediocrity?
Sink or swim; that's your decision.
See you in the gym…
@NorthPoleHoops Top 10 National Player Rankings (2015)
Click Player Name to visit Profile 
#
Player
POS
School
HT
WT
Commitment