Eugene Omoruyi Excels Against Top Regional Talent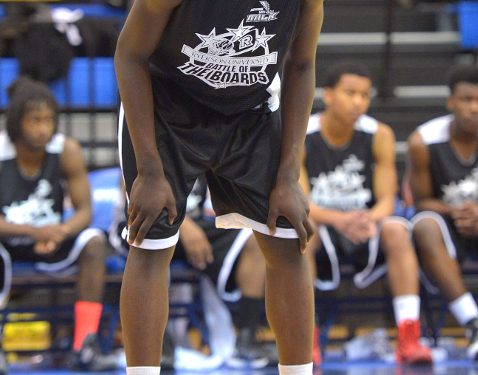 Eugene Omoruyi made a strong impression at Battle of the Boards.
The West Humber and Toronto Public Region representative was extremely productive and efficient, leading his team over Ottawa 79-73.
Omoruyi registered 26 points and 10 rebounds on 12-of-18 from the field.
"I'm greatful…being the youngest on the team, I just tried coming in hard and playing my game and coach gave me momentum," he said.
Throughout the high school season, he showed signs of breaking out of his shell, and on this night, playing with and against top regional talent, the 2016 6'5 small forward stepped up on both ends of the floor.
Inside-outside and all over the floor, Omoruyi played with great energy and was the most impressive prospect at BOB.
I had a chance to speak with him, and he provided me with an early look into next year's high school season.
"West Humber, we're a good squad. Like Notre Dame [Brampton], we're going to be like the cinderella of high school basketball…people should watch out for us next year," he explained, referring to OFSAA bronze medalist ND.
Omoruyi will be playing club basketball with the Northern Kings this spring and summer.
"I've been in the gym working out…by next year, I'm going to be way better than I am now."
He has made great strides already.
Battle of the Boards Top Performers
Eugene Omoruyi (Toronto Public) – 26 points, 10 rebounds (12/18 FG)
Maxime Boursiquot (Ottawa) – 18 points, 5 rebounds (7/8 FG)
Freddy Ibrahim (Peel Region) – 17 points, 4 rebounds (7/10 FG)
Sheldon McIntosh (Hamilton) – 22 points, 4 steals (9/13 FG)
Marcus Bonnick (Toronto Catholic) – 16 points, 8 rebounds (6/9 FG)
Clifton Palmer (Toronto Catholic) – 15 points, 8 rebounds (5/7 FG)
Matthew McKail (Durham Region) – 13 points, 7 rebounds (6/8 FG)
Jay Williams (Durham Region) – 8 points, 6 rebounds, 4 blocks (4/7 FG)
Chuder Teny (Kitchener-Waterloo) – 19 points, 4 rebounds (7/13 FG, 5/8 3P)
TJ Lall (Kitchener-Waterloo) – 19 points, 9 rebounds (9/12 FG)
Malique Hyde (York Region) – 10 points, 7 rebounds (5/10 FG)