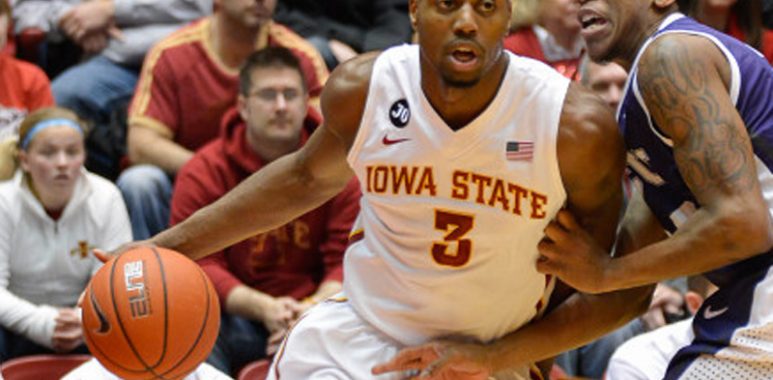 Canadians in NCAA: Recapping with Canada Basketball's Rowan Barrett
When you squat yourself down on the couch this evening to watch the NCAA March Madness Final Four, it will be without Canadian content.
But before the confetti falls and we leave the Madness behind, let's take a moment to celebrate the achievements of Canadians that made their mark in the tournament.
After the "second" round of the tournament (following play-in games), 14 of the 32 teams that remained had a Canadian on the roster.
Another five of those squads advanced to the Sweet Sixteen, with Dayton making a surprise appearance in the Elite Eight and last years' runner-up Michigan Wolverines falling just a half-court heave from the Final Four.
Between these crazy rounds people began to take notice of some of the less heralded Canadian talent given a chance to shine after the likes of Andrew and Nick Wiggins, Jordan Bachynski, Kevin Pangos, and Tyler Ennis had been eliminated.
@NorthPoleHoops caught up with Rowan Barrett, Canada Basketball's Assistant GM/Executive VP of the Senior Men's Program to discuss the depth of Canadian talent on display in this years' big dance.
"I think the big thing about these players is they're not out here doing something they haven't done in the whole season," said Barrett. "This is what they do. This is how they play."
While these performances of Canadians in the tournament received the typical media spotlight, those in the know have seen this talent perform game in and game out.
Melvin Ejim for instance, is a player that truly broke out this season and was consistent for ISU every step of the way.
The do-it-all senior forward was named Big-12 Player of the Year as well as Scholar-Athlete of the Year after spending the summer a member of Canada's Development Men's National Team.
Barrett says he appreciates,
"seeing the opportunity [Ejim]'s been given at Iowa State to stretch the floor, shoot the ball, put it on the deck, attack the basket, as well as the defensive rebounding he's always going to bring… you love to see a kid that works hard getting his just-due."
In three tournament games Ejim averaged 14.3 points and 6.7 rebounds.
"I like the leadership he's bringing, the steadiness he brings, playing and guarding multiple positions, and he's another name that's garnering more and more interest among NBA teams."
For more on Ejim lend an ear to NPH's The Voice podcast where Carlan Gay talks at length with the Iowa State forward.
After the Cyclones lost Georges Niang to injury during the tournament, Ejim's Canadian teammate Naz Long seized the moment.
One of Barrett's favorites since he hosted Long at one of his camps as a young kid; he logged big minutes in the tournament and hit four threes to help Iowa State outlast North Carolina 85-83.
"He could always shoot the ball," said Barrett. "He's a great teammate, good IQ, and definitely not afraid to be out there. He's not afraid to step up in the big times, when he gets an opportunity he'll make those big shots."
Another multi-talented forward from Canada's Development Team, Dwight Powell made his mark in the tournament when he, along with his Canadian front-court mate Stefan Nastic, led Stanford to an upset win over Andrew Wiggins's Kansas Jayhawks.
"Dwight Powell's got NBA teams very excited about his height and his mobility," said Barrett.

"The force he was playing with and the ferocity was tremendous. His grown-man skills are on full display in terms of shooting, driving, athleticism, team play, he's [had] a great tournament."
Powell's Stanford team battled another cinderella story in the Sweet Sixteen when they encountered 11-seed Dayton, featuring Whitby-native Dyshawn Pierre.
The sophomore forward improved by leaps and bounds in his second college season and was a key piece on a deep Dayton roster.
"Such a humble, humble, humble kid," said Rowan, repeating himself three times for emphasis.

"Definitely someone we've been watching and speaking to his coaches. He's hitting shots out to beyond the three-point line, putting it on the floor, he's defending, the job that he did against C.J. Fair was tremendous – he gave him fits. He's doing everything we projected and we feel like this is just the start for this athlete."
Pierre averaged 12.5 points and contributed wherever he was needed on the court to reach the Elite Eight.
Nik Stauskas, who NPH produced the definitive documentary on earlier this year, was the other Canadian to reach the Elite Eight where his Wolverines fell to Kentucky.
"It's clear he can shoot the ball and I think that's been on display," said Barrett. "I think it's clear, though, that he's more than just a shooter and that he's able to put the ball on the deck. It's clear he can facilitate: you can see he had eight assists in that [Texas] game so I think he's showing in the tournament what he's been showing all year that he's not a one-dimensional player."
The game continues to grow in Canada and the 2014 NCAA tournament helped showcase a deep crop of talent that will continue to develop in the next few years.
As for Barrett and co. at Canada Basketball, it will be interesting to see what transpires for the national program moving forward as they will soon have to be cutting NBA talent, when it comes to representing the maple leaf at the highest level.