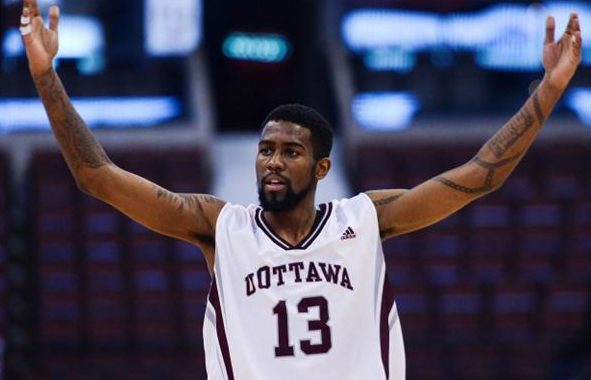 Terry Thomas Will Forego Final Year of Eligibility with Ottawa Gee-Gees
Terry Thomas has decided to leave the University of Ottawa Gee-Gees and turn professional, as was first reported in the university's independent newspaper La Rotonde.
"I gave my all to this team and I'm very proud to have played for the Gee-Gees," Thomas told La Rotonde. "I'm aware that my departure leaves big shoes to fill, but I'm convinced that with the talent this team already has, things will be fine."
The native of Dartmouth, N.S. ends his CIS career after one season in the nation's capital and with one year of eligibility remaining.
After transferring from the St. FX X-Men, Thomas was only available for the 2014 stretch of the 2013-2014 regular season and the playoffs, and he made the most of it. Among the most explosive athletes in the CIS, he led the team with 22.4 points per game, which was good for fourth in the country (i.e. and first on a "Per 40 minute" basis), to go along with 5.9 rebounds and 1.9 assists. "Terry (Thomas) is one of the most electrifying players I've ever played with," teammate Johnny Berhanemeskel tells NPH. "He can do any job he's asked."
He's a versatile talent capable of creating for himself and others from his defense. "The amount of fire he has in-game is really special," Berhanemeskel says. "He's had some impressive nights shining like a star where you just appreciate how hard he plays. He deserves to see success."
No doubt he's referring to Thomas's 44-point onslaught against the York Lions, a team record for points in a single game. The Gee-Gees' victory in Toronto against the Ryerson Rams on Jan. 31 and the team's win in the Wilson Cup final are also two highlights of the season.
There's nothing definite yet for where Thomas's next opportunity will come, but Berhanemeskel isn't worried for him. "With the skill set and athleticism Terry has, he should be able to find a solid gig overseas," Berhanemeskel says, "or wherever an opportunity opens up."
The Gee-Gees players all would have loved to play another year with Thomas, but they respect his decision. Berhanemeskel says that, "As a teammate and friend, you respect those decisions cause everyone has different goals they want to reach."
And the goal for this Ottawa team will remain the same despite the loss. "I don't think you try to replace a (player like) Terry, because he's a rare player," Berhanemeskel says, "but through team contribution and all of us stepping up, we hope to have a chance to compete next year."
The Gee-Gees had lost Warren Ward entering this season and finished as Ontario champions and national runners-up. They don't have a recruit like Terry Thomas this year, at least not yet, but the talent is there for head coach James Derouin's squad, with rising star Caleb Agada on deck.
Though Thomas will not be.
Follow Charles Blouin-Gascon on Twitter @RealCBG & NPH @Northpolehoops