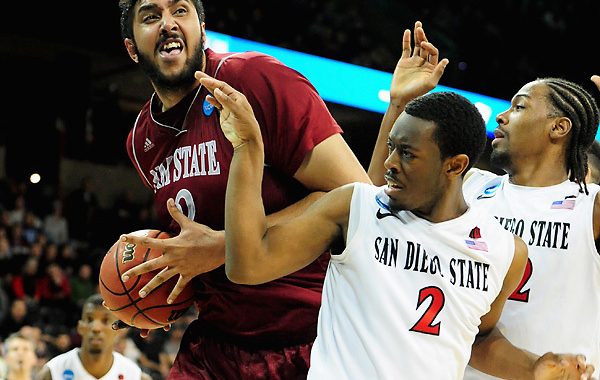 Canadian Aggies Go down in Thriller, Bachynski Exits on High Note
With 4 upsets 3 overtimes and 1 buzzer beater, its pretty fair to say that March Madness did not disappoint Thursday night.
Even more exciting were the 10 Canadian ballers that suited up for 9 different teams in the 2014 NCAA tournament.
The Canadian Aggies of New Mexico State fell in an overtime thriller, while the top shot blocker in the nation, Jordan Bachynski ended his career on a hight note.
Jordan Bachynski (Calgary, AB) had 25 pts (8-14 FG, 9-12 FT)  7 rebounds, 1 block in his last game as a Arizona State Sun Devil. The defensive stud turned it up a notch posting his best scoring performance since his 26 point night against the Oregon in early February. However it was all cut short after Texas Longhorn Cameron Ridley scored a layup as time expired giving Texas the 87-85 win. Although the loss was heartbreaking, Bachynski did put up his best numbers in the 2013-14 NCAA basketball season. He will definitely be looking forward to his next big opportunity – the NBA.
Despite Daniel Mullings' (Toronto, ON) 18 pts (6-13 FG, 7-8 FT) 6 rebounds, 4 assists and 1 steal, New Mexico State lost in OT to San Diego St 73-69 in a thriller. The Aggies erased a 7-point lead in the last minute of regulation tying the game at 60 a piece and pushing the game into overtime. However, after Sim Bhullar (who chipped in 14 points, 7 rebounds, and 2 blocks) fouled out in the OT the Aggies faltered. Senior Renaldo Dixon (Toronto, ON) had 10 points, 6 rebounds, 2 assists, 1 block in 18 minutes of action.
Jason Calliste (Scarborough, ON) finished with 14 pts (1-3 FG 11-12 FT) 3 rebounds, 4 assists and Richard Amardi (Toronto, ON) scored 5 points (2-5 FG) grabbing 8 rebounds for Oregon in a 68-87 victory over BYU. Amardi had a good all around rebounding game grabbing both four defensive and offensive boards. Calliste showed his arsenal Thursday as he refrained from utilizing his deadly touch from the outside, instead resorting to his quick first step to get him to the line.
Nik Stauskas (Mississauga, ON) led Michigan with 15 pts in a 57-40 victory over Wofford. Stauskas had a good all around shooting night as he drilled 5 of 9 field goal attempts, connecting on 3 of 6 from downtown, and 2 of 2 from the line. He also added 2 rebounds an assist and one steal.
Tyler Ennis (Brampton, ON) poured in 16 points (7/11 FG) dishing 6 assist to help lead Syracuse over Western Michigan 77-53. Older brother Dylan's (Brampton, ON) Villanova Wildcats also won beating Milwaukee 73-53.
Dayton beats Ohio State 60-59 as Dyshawn Pierre (Whitby, ON) had a perfect shooting game going 2 of 2 from the field, 1 of 1 from three point land and 7 of 7 from the free throw stripe pouring in 12 points, 8 rebounds, 2 assist and 1 steal.
Harvard upset Cincinnati 61-57 as Laurent Rivard (Saint Bruno, QC) finished with 11 points and 5 rebounds. Harvard only had 12 turnovers against an aggressive Bearcat defense that is one of the best in the NCAA. Rivard's range proved to be troubling for Cincinnati as they were reluctant to leave the Quebec native. This therefore allowed for other opportunities and more space on the floor for Rivard's teammates. All of Rivard's  shots were three pointers as he connected on 3 of 5 from behind the arc.
Grandy Glaze (Toronto, ON) had 2 points (1-2 FG) 1 steal and 1 assist as Saint Louis beat NC State 83-80. The Bilkens made heroic comeback in the last minute of regulation eventually stealing the game in overtime.
NCAA March Madness Day 2 Schedule
All Games Eastern Time
12:40 PM – Brady Heslip, Kenny Chery & #6 Baylor (24-11) VS #11 Nebraska (19-12)
1:40 PM – Dwight Powell, Stefan Nastic & #10 Stanford (21-12) VS #7 New Mexico (27-6)
3:10 PM – Jahenns Manigat & #3 Creighton (26-7) VS #14 LA-Lafayette (23-11)
4:10 PM – Andrew Wiggins & #2 Kansas (24-9) VS #15 EKU (24-9)
4:40 PM – Kevin Pangos & #8 Gonzaga (28-6) VS #9 OK St (21-12)
7:10 PM – Chadrack Lufile, Nick Wiggins & #1 Wichita State (34-0) VS #16 Cal Poly (14-19)
9:50 PM – Melvin Ejim, Naz Long & #3 Iowa St (26-7) VS #14 NC Central (28-5)