Andrew Wiggins Elevating Game in Timely Fashion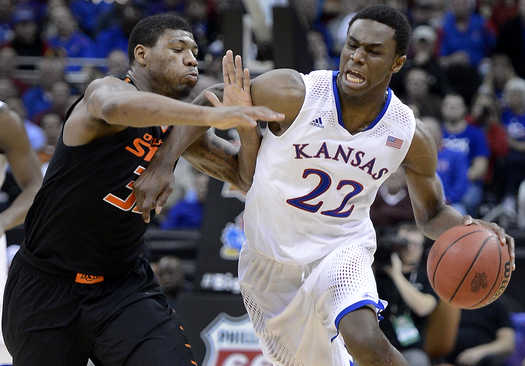 Andrew Wiggins has taken his game to new heights.
If the career-high 41 points against West Virginia didn't do it for you, the Vaughan, Ontario native followed up with a game-high 30 points against Marcus Smart and Oklahoma State…this time in an overtime victory.
But it's not just his offensive production that stands out; diving for loose balls and disturbing his opposition defensively with his length cannot be understated.
Wiggins is averaging eight rebounds and four steals over the last two games, both well above his season averages.
The biggest question has always been whether or not he would take the bull by the horns for Kansas, particularly down the stretch.
The Canadian freshman is no longer shying away from the moment, shooting the basketball with ultimate confidence both on the catch and shoot, or off the dribble with great fluidity.
[youtube]https://www.youtube.com/watch?v=J8PKsk3riiA[/youtube]
I have tracked Wiggins' progress since his high school days at Vaughan Secondary–whether it was the OFSAA championships with the Voyageurs, big games with Huntington Prep or Peach Jam domination with CIA Bounce–the bigger the stakes were, the higher Wiggins elevated (no pun intended).
The Kansas Jayhawks enter the BIG 12 Semi-finals tonight against Iowa State, a familiar opponent–a team they've played twice this season.
Andrew Wiggins against Iowa State? Well, he's averaging 23 points and 13 rebounds against them–the best overall averages against any team this season.
With Joel Embiid out, and the NCAA tournament right around the corner, Wiggins has elevated his game in a timely fashion.
NOTE: Iowa State features a "Big Time" Canadian of their own. Melvin Ejim, AKA the BIG 12 player of the year, as well as Naz Long, a sophomore guard who has been stepping up for the Cyclones off the bench.