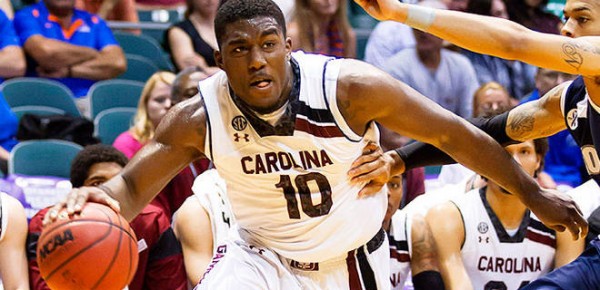 Duane Notice Career Night for USC, Strictly Business
Duane Notice is a name that every Canadian basketball fan should know about.
The South Carolina freshman put together a career-night in the 74-56 victory over Auburn in the SEC tournament. Notice registered a career-high 23 points, 8 rebounds, 3 assists off the bench in 29 minutes. He truly elevated his game when his team needed him most. After shooting 8/30 (20%) on three-point field goals in 18 SEC games throughout the season, he went for 4/4 in the victory.
Notice followed up last night with 11 points, 4 rebounds, and 3 assists in the unlikely 71-69 victory over Arkansas. South Carolina [14-19] advance to the SEC quarter-finals to take on Tennesse. The Gamecock's still have a chance to earn a spot in the desired NCAA tournament; they will have to win the SEC tournament.
Duane Notice History
The 6'2 combo guard was dominating the high school basketball scene in Toronto for 4 years at St Mikes, before taking his post -grad year at St Thomas More. Notice was physically advanced for as long as we can remember, which gave him the advantage over his opponents, particularly in grade 9 & 10. As Notice went through his upperclassmen years, many players closed the gap.
This is why you have to respect a player of Notice's breed; he could have easily fallen off in high school. He earned early accolades which included Jordan Classic Co-MVP, and extended time under the Canada Basketball umbrella, at the cadet and junior national team levels. As we at @NorthPoleHoops analyze the progress of student-athletes, we have seen many scenarios where players get caught up in the hype and lose their focus.
Not this guy.
If you ask anyone about Notice's work ethic, it is undeniable; his desire to be great takes his upside to newer heights. A fairly quiet individual, Notice is strictly business
[youtube]https://www.youtube.com/watch?v=UgUQuwvt2IA[/youtube]
In 2013, Duane Notice earned NPH Platform MVP Honours and continued to excel against the best in the country. Now a freshman at USC, he is currently averaging 7.6 PPG, 2.8 RPG, 2.8 APG while earning heavy minutes, both as a starter and coming off the bench.
NPH Analysis and Scouting Report on Duane Notice
NPH Platform, December 2012

Peach Jam, July 2012

Duane Notice Behind Back Pass @ NPH Platform

Notice is a high level slasher that can get to the rim at will in the half court set, and thrives in transition. He is a combo guard that can create for himself and others. He will need to increase confidence in his shot to take his game to the next level. He has shown the ability to knock down shots in high school play, however hesitated to pull during EYBL play. At this point he is looking like a mid-major + prospect.

National Championships, August 2011

The U17 Nationals MVP has done it again after receiving the same honour at 2009 Nationals in Kamloops, British Columbia. Notice really boosted his stock based on his performance all week. He has the body structure of an ideal combo guard with a strong frame and great athleticism at 6'2. The most impressive trait that Notice displayed was his lock-down defence, especially in his first game where he recorded six steals. He was a piranha out there, and if he can sustain this agressive defensive mind set, despite the competition, he will thrive at the next level. Another aspect of his game that really excited us was his passing ability, where he drew double teams and found the crack to slip the dime to his teammates. Notice is certainly a mid-high major NCAA prospect with all the physical tools to play at that level. An area he must improve on is his jump shot, as he is primarily an elite slasher at this point.

Freeds Tip Off 

Plain and simple Duane Notice stole the show this weekend and left no room for a second act. His offensive versatility was the high point in watching him go to work on his opponents. One thing that is distinct about Notice is the way he cuts at a wide range of angles; using this skill to split the defence and finish or find holes that allow for clean passes, right on target. An area that he has shown progress in is his jump shot and this will be where their needs to be continuous growth. Notice has the vision and ball control to play the point at times, yet he has the physical build and skills to play as two-guard. From a defensive outlook on Notice, he can provide 2-5 steals a game, where he will either finish on a fast break or dish for whoever is in front. The value of a guard that takes pride in playing defense is extremely high and this is something that Blue Raiders get from Notice. The energy level that he consistently plays at shows how well conditioned he is for the next level. There is no doubt that he will continue to receive major attention from high-major NCAA programs throughout this year.
Schools that recruited Duane Notice in HS: Kansas State, Uconn, Purdue, West Virginia, Auburn, Nebraska, Tennessee, Baylor, Duqesne, South Carolina, St Bonaventure, Detroit, Loyola Marymount