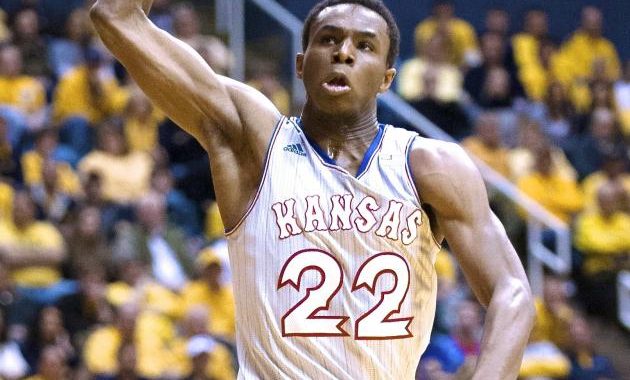 Andrew Wiggins 41 Points, Naz Long Buzzer-Beater, Khem Birch Monster Double-Double
March is finally here and although it may only be the start, teams are gearing up and making that last push to try and get a bid for the NCAA tournament. Andrew Wiggins 41 points was just the tip of the ice berg as other Canadians were also putting up big games. @NorthPoleHoops continues its coverage of Canadians in NCAA.
A Night to Remember Andrew Wiggins (Vaughn, ON) was determined Saturday torching West Virginia for a career high 41 points (12-18 FG, 2-5 3PT, 15-19 FT) despite the 92-86 loss. Kansas started off slow, trailing by 25 at one point, and were never able to get back into the game. Wiggins was a nightmare as his quick first step, jumper and relentlessness attack on the offensive boards (8 rebounds in the game) made it hard to keep him off scoreboard. The most encouraging sign of the game was Wiggins tenacity on the defensive end, going for 5 steals and 4 blocks, the first D-1 player to reach this feat with a 40+ game in   [youtube]http://www.youtube.com/watch?v=reKw8Z6zQMs[/youtube]
Malcom Duvivier (Toronto, ON) led Oregon State to a 78-76-overtime win over Arizona State and fellow Canadian Jordan Bachynski (Calgary, AB) . Duvivier caught fire as he scored 11 points in the first half. He went on to register a career high 13 points (4-7 FG, 2-2 FT) off the bench, making 3 out of 4 three point shots. Bachynski had 9 points and 4 blocks  (4-6, FG 1-3 FT) but only managed 4 rebounds.
The French Connection
Despite Khem Birch (Montreal, QC) putting up his third consecutive double-double, UNLV still came up short falling 76-72 to Nevada. The Running Rebels went on an early run earning a 17-point lead within the first 5 minutes of the half. However Nevada went on a 11-0 run making it a new ball game. Khem Birch had a monster game registering 15 points, ( 5-13 FG, 5-7 FT) and pulling down a season high 22 rebounds. Birch, the second leader shot blocker in the NCAA, also swatted 4 shots. With the loss, UNLV will not have a first round bye in next week's Mountain West Conference tournament.
Laurent Rivard (Saint Bruno, QC) got hot, as Harvard was able to hang on in overtime winning 98-94 against the Brown Bears. Rivard, hit a huge overtime triple with 37 seconds left in overtime making it a two possession game, 98-93. Harvard was the first team to clinch a spot in the NCAA tournament following their 70-58 win on Friday over Yale in the Ivy League Tournament. Rivard (6-11 FG, 2-2 FT) scored 18 points and grabbed a board as he connected on 4 of his 8 three point attempts.
Kenny Chery (Montreal, QC) has been lights out lately and Saturday was not an exception. The Montreal point guard went off scoring 29 points (8-13 FG, 0-2 3PT, 13-14 FT) at Baylor squeezed by beating Kansas State 76-74.
Sauga City's Finest
Michigan finished strong as they beat a tough Indiana team 84- 80. Nik Stauskas (Mississauga, ON), a strong candidate to win Big Ten Player of the Year, hit 20 points for the third straight game going for 21 (6-13 FG, 1-4 3PT, 8-9 FT) 2 rebounds and 2 assists. Michigan is peaking at the right time winning their first three games of March, and 5 straight games overall.
Naz Long's (Mississauga, ON) buzzer beater three at the end or regulation forced overtime where Iowa State stole a game winning 85-81. Long played well of the bench scoring 14 points on 5 of 8 from the field including 3 of 5 from the arc. Melvin Ejim (Toronto, ON) was 2 rebounds short of posting his 10th double-double this season going for 12 points (5-10 FG, 0-2 3PT, 2-4 FT) and 8 boards.
[youtube]http://www.youtube.com/watch?v=Y3oFQfhAhrk[/youtube]
Perfect From The Field
Two Canadians went perfect from the floor Saturday, and they were no other than Stefan Nastic (Toronto, ON) and Chadarack Lufile (Burlington, ON). Nastic went 6 of 6 for 12 points in a winning effort as Stanford edged Utah 61-60. Lufile had a efficient night going 4 of 4 from the field scoring 8 points and grabbing 6 rebounds in 17 minutes of action. In case you didn't know, Wichita State is still UNDEFEATED winning its 33rd consecutive game crushing Missouri State 42-67.
Jason Calliste (Scarborough, ON) has established himself as one of the top 3-point shooters in the country, and on this night he carried Oregon over #3-ranked Arizona, posting 18 points off the bench on 4-5 from behind the arch.
Mathew Wright (Toronto, ON) did everything he could but his St. Bonaventure Bonnies still lost 67-86 to VCU. Wright and teammate Youssou Ndoye scored St Bonaventure first 17 points. After the early spurt the Bonnies got very sloppy turning the ball over 24 times, leading to 31 points for the VCU Rams. Wright held his own as he scored 21 points, marking the fourth time in five games that he has accomplished that feat. Wright shot the ball pretty well going 7-14 from the field, 4-9 from the arc and 3 of 5 from the free-throw line. He added 4 rebounds, and 3 steals but he did turn the ball over 4 times.