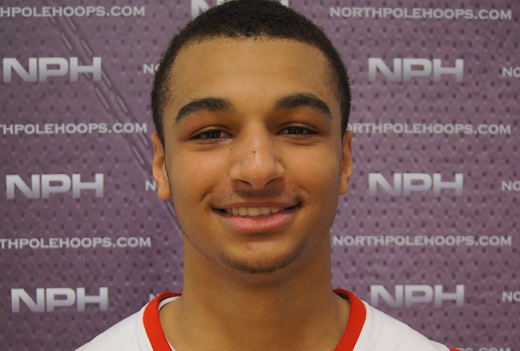 Jamal Murray and Filip Vujadinovic Standout Performances At Nike Hoops Classic
HAMILTON,ON–I could not have asked for a better weekend of high school basketball. It started at the Nike Hoops Classic where Filip Vujadinovic stepped his game up another level while playing for United Leadership Academy (Hamilton, ON) as they put up a strong fight against La Lumiere (La Porte, IN) in the Nike Hoops Classic. Then I hopped on the QEW the following morning to catch another close contest at the Air Canada Centre, between Bill Crothers Secondary School (Unionville, ON) and Findlay Prep (Henderson, NV). So let me sum this up; the highly recruited CIS prospect mentioned above, the top point guard in the 2015 class Munis Tutu, and the two top ranked Canadians in NPH National Rankings for the 2016 class, Jamal Murray and Justin Jackson.
Murray has been in the spot light since being discovered at the Adidas Tri-City Showcase in Kitchener two years ago and has handled it all like a professional. He lives to play in the big moments and steps up when it's time to. As a member of the Athlete Institute High School squad he is looked at as a leader and a well respected teammate.
The rave surrounding Murray is no boost, he's simply a guy that gets it done. He has yet to come out and have a poor performance in front of my eyes. What keeps him at the top of the Canadian 2016 class is his level of consistency over the past 15 games that I've watched him play in. Murray's "clutch gene" at the end of games is a recurring quality that has come out in the different levels he's played.
The close out of this game against Clarkson came from both Murray and Connor LaRonde. LaRonde lit it up from the perimeter with four second half three pointers that gave Athlete Institute the edge in the final minutes. He is a trusted spot up guy on this team; teammates usually got their threes up in the air as he lets it fly, knowing that it's likely nothing but net.
The roles of the players on Athlete Institute are coming together and being better defined in the last two games. It will make them a very dangerous prep team moving forward if all the guys can buy in, and accept their roles while playing to their strengths. This is exactly what happened in the win over Clarkson Prep last night.
Josiah Riley and Selvedin Planincic were other bright spots for AI.
Clarkson has let their emotions affect them negatively on many occasions and this will be a target area to improve on. The lead guards on this team have to set the standard for how the team will be represented.
Is There a More Versatile Uncommitted 2014 SF Out There?
Filip Vujadinovic has really earned his stripes over this season, leading a Nelson (Burlington) team in tournaments and regular season play. His ability to defend three positions and provide versatility on the offensive end is the reason coaches are all over him in Canada. In final game of the tournament against a very skilled and well structured La Lumiere, he poured in 27 points to keep the game respectable, eventually ULA (United Leadership Academy) losing 68-57.
"Knowing it was my last high school game I wanted to go out with a bang. I definitely wanted to prove to everyone watching  that I can play against the best. Against a great team like La Lumiere my mindset was to just play hard and let my game come to me, which ended up working in my favour.
This could have been a 30 plus point night for him had he played the entire game. The uncommitted wing sat for six minutes in the first half and about five in the second half.
To answer the rhetorical question in the title of this section. No, there is not a better or more versatile player playing his position in the Canadian 2014 class. If he chooses to stay in Canada for his university career he will make an instant impact and start on most teams. However, Vujadinovic is also receiving some NCAA interest south of the border.
Strengths
sizing down smaller defenders
high IQ
athletic
getting in rebounding position
perimeter shooting
playing to his strengths
Areas of Improvement
become more explosive
create offense off the dribble
Under the coaching Kenold Knight, this ULA team had built good chemistry in only a few practices together. Vujadinovic is the type of player you can add to any roster and watch him produce and show value.
Canadian prospect tracking continues today at the start of the best tournament of the year, the AAAA OFSAA Championships. North Pole Hoops is the official media sponsor and home for up to date results, stories and more; follow along as we report on the first round at OFSAA.