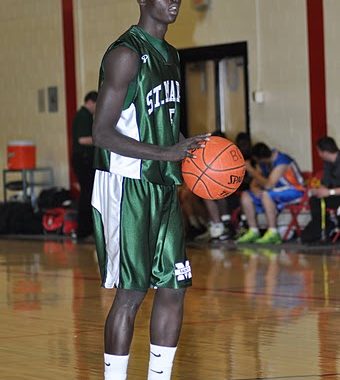 Wil Konybai Becomes Nipissing University's First Commit
Surely you've heard the proverb, "It takes a village to raise a child."
Wil Konybai is now an 18 year old student-athlete that is the child from the old idiom above. The Sudanese-Canadian-Calgarian has been on a journey since his family fled from a war torn Sudan at the age of nine. This journey continues to North Bay, Ontario where Konybai has committed to the Nipissing University Lakers, and will be under the tutelage of Head Coach Chris Cheng.
The experiences that he's come across in his young life have forced him to mature much faster than the typical teenager. Have a conversation with Konybai and his strong character will be the first thing to strike you.
Growing up in a household with three other brothers and raised only by his mother Nyidear, it was a team effort, everyone played their part, Wil had his first job at the age of 12.
He understands and is accepting of the fact that his family responsibilities come first. During the 2011-2012 school year, the move to Ottawa was necessary in order to help his uncle look after a younger cousin. Regardless of where he moved,  basketball was always close and acted as a place of refuge. During the summer of 2012 the move back to Alberta meant playing for Team Alberta during the summer with coach Erhayat Oztan.
While in Ottawa, he played for Coach David DeAveiro (McGill University Head Coach) at Ottawa Next Level for the club ball season.
"I played for Ottawa Next Level,with guys like Chris McComber, Mike Shoveller and a bunch of other talented guys. I got to give credit to Coach DeAveiro, learned a lot about fundamentals from him because coming into Ottawa I was more of a one on one player, he taught me how to move off the ball. He encouraged me to play defense all the time at a high level and never take time off."
You would think that Wil had won a Grammy from all the thanks that he had for people around him. The gratitude expressed towards his high school coach at St. Mary's in Calgary, Vincent Marra, was very genuine.
"Out here in Calgary, he used to open up the gym for me and give me time to train, we always talked about basketball and the CIS. He instilled a lot confidence in me."
Coach Cheng and other bench bosses from; the University of Calgary, University of British Columbia – Okanagan, Mount Royal, St. Francis Xavier, Acadia, were recruiting Konybai for reasons other than his basketball abilities…how about intangible qualities.
While scouting him over the past three years, his intangibles had become clear to @NorthPoleHoops. Perseverance, maturity, modesty, adaptability, willingness to learn and gratitude all got a check. Some prospects will play through a whole career and never fathom the value that these traits can bring to a team; as for "Wilo," as his closest friends like to call him, he's ahead of the pack.
Coach Cheng attested, "He's a really mature individual, very confident in his ambitions. It stood out to our coaching staff that he wanted to really focus on becoming a better student. We're happy to have him."
"He's got a great circle of leaders around him; from his principal to his teachers, coaches and mentor, Sean Lynn a police officer in city of Calgary, and of course his mother," continued Cheng.
The first coach of the Nipissing Lakers basketball program and the first ever commit to the program have been learning about one another during the recruitment process.
"We've known each other for a while, he took the time to learn about me as a person and that's something I really valued, he's known me from when I was young and now he's going to watch me grow as a man and as an athlete," expressed Konybai.
Much like how Wilo was under the radar, so is Nipissing as the newest team to enter the OUA (Ontario University Athletics) league in the CIS.
With the work ethic that the coaching staff has shown on the recruiting trail, it won't be long before the Lakers make a name…and Konybai is believed to help Nipissing U achieve their goals.
"He's been on the radar as soon as I got the job. We're comfortable with him bringing up the ball and making decisions and comfortable with him off the ball. People are going to be impressed with his on ball defense. He's deceivingly athletic. Him not playing this year makes him a hidden gem."
Konybai is as excited as the Lakers program is of having him as their first commitment for a fresh start.
"Excited to play against that next level of competition. It's going to be the first year for all of us, but I'm excited to be playing with a bunch of new, young talent."