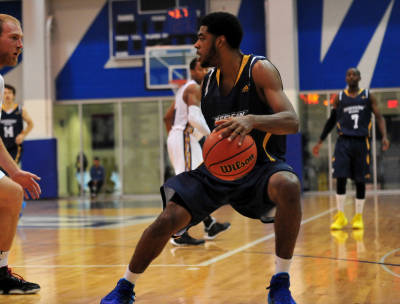 Carleton Ravens Perfect In CIS, 18-0 After Beating Ryerson 71-68
TORONTO—You don't play the Carleton Ravens so much as you endure them. You withstand them. The Ravens have a well-defined system, and the players only rarely, if ever, get away from it. They're like a metronome. Tic. Toc.
You endure the Ravens. You do your best and you play your game, because they do their best and they play their game. And after 40 minutes, perhaps you win. Or they win. Or you both continue into overtime, with you definitely playing your best if you happen to still be tied with Carleton after 40 minutes, and the Ravens also playing their best. Tic. Toc. Until you, or them, can't tick anymore.
That much has been true all season, though no team has managed that last part yet—to win the game. The Ryerson Rams were the last team to undertake the Ravens challenge on Feb. 1 and, after a 71-68 victory, Carleton remains undefeated through 18 CIS regular season games.
But boy was it ever close! The Rams had a chance to tie it at the buzzer, after all. Let's not spoil the ending quite yet, however.
After his team's very first game this season, Ryerson newcomer Kadeem Green had told NPH that the goal was to beat Carleton. In the first quarter, he played like he meant it. He defended well against fifth-year Tyson Hinz and cleaned up the boards—his haul of 9 was almost as many as the entire Ravens team combined. "We pride ourselves on defense every night," Ryerson head coach Roy Rana said. "Tonight we came out and we were really focused…It was a great defensive effort against a great team."
Ryerson led 13-9 after the first quarter, in which the Ravens scored a season-low for points, but it hadn't necessarily been a sloppy game—only two turnovers on each side at that point. Carleton head coach Dave Smart called the quarter "slow," and that's probably more accurate than to say it was sloppy.
In the second quarter, the Ravens cleaned the boards but the Rams stayed afloat and even took a 28-27 lead at the half. "They played very well to take us out of our stuff," Smart said. "We couldn't score. When we score, our bench guys get going and we're just too much for guys."
If the Ravens' Nest has proven to be a formidable habitat for this team, it turns out that the Coca-Cola Court is just as good for these Rams. The gym was packed to capacity, and it was hard to hear yourself think behind the Ryerson bench. Surely that played a role in Carleton's offensive woes. Adika Peter-McNeilly said the key was to match Carleton's intensity, which Ryerson did.
The third quarter turned into the Peter-McNeilly show. The third-year guard and Ryerson newcomer was unstoppable, scoring 11 points in the period. "He's a huge piece of our team," Rana said. "He's just so calm, so cool under pressure."
The Rams led 51-44 after that scoring onslaught, and that's perhaps when the Ravens showed us that they are who we thought they were.
While every player on Carleton's team can be plugged in and expected to contribute within Smart's system, it doesn't mean every player is equivalent. "They managed to keep Phil (Philip Scrubb) and Ty (Tyson Hinz) off balance," Smart said, "and they didn't respond very well to it."
They did in the second half.
Point guard Philip Scrubb was the one to go toe-to-toe with Peter-McNeilly, scoring 10 of his own in the third quarter. He added six more in the fourth, including one three-pointer from the right wing to tie it at 57.
From there, Tyson Hinz took the relay and carried his team to the finish line. He gave his team its first lead since the second quarter at 59-57, and the post player iced it at 70-65 from the line.
But Peter-McNeilly wasn't done. With only 14 seconds left and his team down 5, he drained a three-point shot to keep the Rams alive.
"I had a vision that was going in before I even shot it, so I knew it was going in," Peter-McNeilly said. "(It was) something unique."
His last attempt, coming after a steal and with only three seconds left, wasn't good. There might have been a Thomas Scrubb miss at the free throw line, but the game was essentially over by then.
Rana took the loss in stride and was relatively upbeat afterward. All season, he's been preaching that this is a process, with the endgame of peaking at the right time and not letting emotions, good and bad, overcome him and his players.
"We've got to take it every game, one at a time and hopefully just collect as many wins as we can before the next phase of our season," Rana said.
There's been a lot of hype surrounding this Ravens team dating back to its preseason overtime loss against the now 21-0 Syracuse Orange. Smart declined any suggestion that this may be his best one yet. "Absolutely not," he said, "not even close."
Offensively, Scrubb led the way with a team-high 22 points while Hinz added 20 of his own. Thomas Scrubb had a double-double, with 10 points and a game-high 15 rebounds.
"I hope that game doesn't indicate we were a very good team," Smart said. "It's nice to get film, so we can analyze it and move forward from there."
It's nice to get a win, too, but Smart merely agreed with our suggestion and didn't actually say it himself.
For Ryerson, Peter-McNeilly led the way with a game-high 26 points, and three other Rams scored in double figures—Green (i.e. 12), and Aaron Best and Jahmal Jones, each with 11.
In some ways, this weekend felt like the Rams' Super Bowl weekend—the top two teams in the CIS were in town, the Wilson Cup trophy was on display, and College Basketball Hall of Fame inductee George Raveling attended the Gee-Gees game while Rogers TV broadcasted the tilt against the Carleton.
With the loud crowd, and the close result, it felt like the Super Bowl—but it wasn't. "We didn't get the win," Peter-McNeilly said.
The Rams finish the weekend with an 0-2 record. Somehow, that feels harsh.
TOP PERFORMERS
Carleton
Philip Scrubb: 22 points, 7 rebounds, 7 assists, 1 block
Tyson Hinz: 20 points, 9 rebounds, 2 assists, 1 steal, 2 blocks
Ryerson
Adika Peter-McNeilly: 26 points, 3 rebounds, 2 assists, 1 steal
Kadeem Green: 12 points, 12 rebounds, 2 assists, 1 steal, 1 block
Follow Charles Blouin-Gascon on Twitter @RealCBG & NPH @Northpolehoops