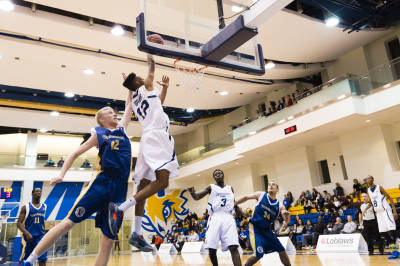 Ryerson Rams Get Their Swagger Back, Defeat Laurentian
TORONTO—Ryerson Rams rookie Andy Agyepong was at the top of the key, on the right side, and fellow rookie Nabil Ibrahim cut hard along the baseline. The ball was there at the perfect time, and Ibrahim took off.
Dunk, timeout Laurentian and right on cue, the DJ at the Mattamy Athletic Centre played that Jay Z and Kanye West song, the one about going to Paris and having fun.
It was perfect.
Ryerson had essentially won the game by then, and that play from two players used only sparingly by head coach Roy Rana was the crowing moment. Ball so hard, indeed.
"We were on the road for five games," Rams point guard Jahmal Jones said, "and we knew we had to get back and get our swagger," finishing with 14 points, five rebounds and a game-high eight assists.
But that's not how the entire game went.
The Voyageurs actually led at some point, 27-25 and again 30-26 and 30-28 behind a strong second quarter form their leaders Josh Budd and Alex Ratte, and the score was only 40-33 for the Rams at halftime.
"I told the guys that this is actually an important game, we don't want to go back to Sudbury fighting for third place," Jones said. At halftime, Rana reinforced that idea—in so many words, "a couple of words that we didn't like to hear," Jones continued.
And words they can't use in a post-game interview apparently!
One word that Rana said that they can use was "attack." Agyepong, who scored four points to go with three assists in 13 minutes of play, said the message was simple. "Continue the momentum," he said. "Hopefully spark something and make sure that us younger guys are…having fun."
The second half started the same way that the first had, with Ryerson jumping on the Voyageurs to build a big lead. But unlike in the first quarter, when Laurentian came back from a 13-2 deficit, this time the Rams pulled ahead, and ahead, and ahead.
"They jumped on us quick, and our guys got a little nervous," Laurentian head coach Shawn Swords said. "Their aggressiveness just hurt us."
So much so that it took until two free throws, from rookie Jaime Ames, with 5:30 left in the third quarter for Laurentian to score its first points after the half. It's one thing to get beat, but it's another not to try hard enough, and a team that tries hard will hit more than just two baskets in a period.
Laurentian, in the second half, got cold—frigid cold, exactly like downtown Toronto—and hit only seven of its 41 field goal attempts. About the Rams, Swords said that, "They play hard and they don't really give you a chance to breathe."
Swords pulled his starters, all five of them, and the fourth quarter became a battle of the substitutes. "You could see it on the floor, that we were struggling," Swords said. "The guys that came in, they played really hard when they were out there. They showed a little more heart and played harder for that moment."
And what Rana liked is that his substitutes managed to maintain the lead. "Guys like Nabil Ibrahim and Andy Agyepong are young players who have a bright future," Rana said. "It's always good to give them a little bit of confidence, because you never know when you're going to need them again."
Indeed, the lead was at 65-43 at the start of the fourth quarter and it ended 81-55. "Laurentian has some guys that are hurting and decided to rest for (tonight)," Rana said, "and it made the result a bit easier for us in the second half."
In his team's first game after the injury to Nelson Yengue a week ago in a close win against the York Lions, Swords had a short bench that he decided to shorten further. "It's difficult," he said. "It's tough, we need everybody to be running on all cylinders and to make up for some of the stuff that (Yengue) has given us this year."
He was just looking ahead, understanding that his team didn't quite have it and choosing to focus on getting ready for the next game against the Toronto Varsity Blues. That contest is set for 8 p.m.
Swords sees the silver lining.
Despite the blowout, his team is still comfortably sitting in the fourth position of the best division in the CIS, and after losing scoring savant Manny Pasquale from last year's team. At 10-5, the Voyageurs have a two-game lead, and a head-to-head win, over 8-7 York.
"The guys have been playing really hard this year and are sharing the ball a lot more," Swords said.
Next up for the Rams is a home game against the expansion Algoma Thunderbirds, a team that's seventh in the OUA East with a 4-11 record. "Nobody is a weaker opponent," Rana said. "They're just our next opponent."
That contest is set for an 8 p.m. start.
NPH TOP PERFORMERS
 Ryerson
• Kadeem Green: 17 points, 10 rebounds, 1 assist, 2 blocks
• Jahmal Jones: 14 points, 5 rebounds, 8 assists, 1 steal, 1 block
Laurentian
• Alex Ratte: 13 points, 3 rebounds, 2 assists
• Ryan Bennett: 9 points, 9 rebounds, 1 assist, 3 steals
Follow Charles Blouin-Gascon on Twitter @RealCBG & NPH @Northpolehoops