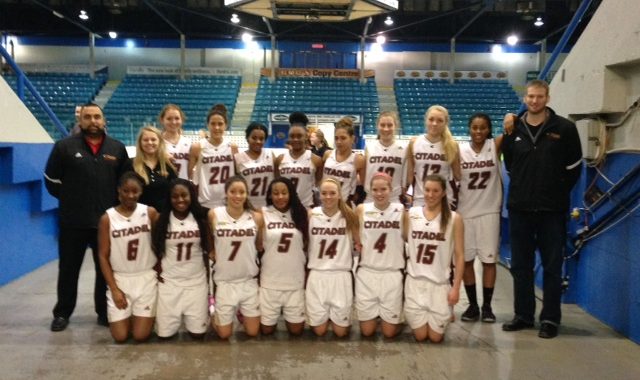 86 Consecutive Wins & Counting; The Machine That is Citadel High
HALIFAX,NS–We teach our athletes and our children that if you are disciplined, committed and work hard success will come. We also teach them that when the success comes, respect and opportunity comes with it and you must be humble.
While the Citadel High School Girl's Basketball program epitomizes these teachings and have put together an 86 game winning streak that has garnered little attention in their own school, their community and the basketball world.
This team has yet to lose, since March of 2011 in the provincial finals.
I took the opportunity to check out the Phoenix in Metro League play, which was a rematch of last year's provincial championship game against the Lockview Dragons. I was thoroughly impressed with what I saw.
The Phoenix dress 15 players each game and Coach Marson just keeps rotating players through and the level of team play, effort or skill never really seems to drop off.  They just keep coming.
At half time the game had a margin of 19 but it kind of had the feel of a few bounces here or there and it could have been much closer.
Then the teams rolled out for the second half and Citadel completely shut down Lockview. With just over three minutes left in the fourth Citadel had only allowed six points and had widened the margin to almost 47 and looked all of a team that was on its way to an 84th consecutive win.
As it stands, the victories are up to 86 wins…and counting.
Not only is the team winning, the average margin of victory is 53 points. So how does a team like that stay focused?
"Our best competition is in practice; we come and work hard and compete against each other to get better every day" says grade 10 forward Charlotte Craig.
Coach Nadeem Marson has worked his way up through the ranks at Citadel High taking over the program in September of 2013 from Coach Ian McCrae who moved onto Mount Saint University; Marson is enjoying his inheritance.
"Its truly a blessing, not to inherit the win streak but to get such a great group of basketball players who are working hard," explained Marson.
Coach Ian McCrae adds, "people think it is all talent based; we had tough games against Riverview (NB) last year we were down 15-0 to start the game missing three starters, we were down four with 13 seconds left another time to Riverview, we were down six to Fredericton with three minutes left and these kids showed heart and belief, competed and won."
Resilience & cohesion has certainly been a key element to this remarkable run.
"It's a pretty unbelievable group of girls, they were great to coach because there was no selfishness. It was really hard to leave," continued McCrae.
The Phoenix have eight seniors which equates to eight players leaving their high school careers without a loss. Senior forward Jane Boyle sums it up, "we came in here in grade 10, didn't know what to expect and every day we just work hard and try our best each game, hopefully we win our third provincial championship."
This is a very talented basketball team and is comprised of 11 provincial players–five of which were on the Youth 15 team that won Bronze at 2013 Nationals and the team that arguably gave Ontario the toughest game. The other six were members of the Canada Games Team that had a solid fifth place finish. These athletes are not only good on a provincial level they are also competing on a National level.
Hanging around and watching some humble, yet competitive high school girls who are a part of one of the most dominant East Coast basketball programs of all time raises the following questions.
What would the talk be if this were a boys team? How many would be showing up to watch them play and who would be showing up to watch them play if they were males?
So the The Citadel Phoenix have a challenge from their high School, their City, their Province and the basketball community as a whole.
That challenge is simple; keep winning and earning respect in the basketball world.
86 and counting…