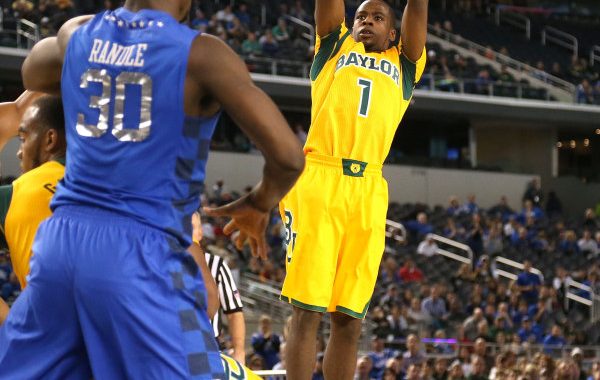 Kenny Chery Earning Elite Canadian PG Status
Kenny Chery!
The Montreal, Quebec product and State Fair JUCO transfer has been gradually turning heads through the course of the 2013-2014 season at Baylor.
Last night against Kentucky, the #3-ranked team in America, the 5'11 lead guard took over the stage–front and centre.
Jeff Goodman of ESPN was bang on:
"We talk about all the terrific Canadians in college hoops. Kenny Chery needs to be put in conversation." – Jeff Goodman, ESPN
Chery registered a game-high 18 points [8/15 FG], to go along with five assists, one rebound, one steal and only two turnovers.
But it was more than that.
The Canadian point guard hit timely shots–including the dagger mid-range pull up–while also making great decisions throughout the game.
It was my third time watching him this season, and I came away extremely impressed with his consistency and his confidence. When the lights are on, Chery does not shy away from the moment, he embraces it.
"Kenny is the kind of kid that loves the pressure. He was the best guard on the floor, point blank," explained Nelson Osse of PX Knights in Quebec, a long-time club coach for Chery.
Joey McKitterick, his former Coach at Brookwood Bounce Elite (AAU), echoed the same message.
"That's Kenny…the bigger the stage, the brighter he shines."
People across the country are beginning to appreciate the "under dog" as Osse put it, with Chery performing against the big dogs.
"That smile [near end of the game] was for all those people who don't know Kenny…he is basically saying 'I just put a chery on top'" continued Osse.
"I was on the phone with him yesterday, and he's still hungry, he doesn't feel like he's done anything yet."
Chery is no one-trick pony either. I watched him against Syracuse, which featured fellow Canadian point guard Tyler Ennis–both players were integral for their teams. The Orange picked up the 74-67 victory, but Chery posted 12 points [5/9 FG] along with a team-high eight assists–Ennis registered 11 points, nine assists and four steals.
Whether it be heading up the ball in transition, throwing perfect lobs to his freak athletes down low (Austin, Jefferson Gathers, etc) or operating in the half court set, Chery is proving to have the full package.
When a point guard lacks size, they must possess confidence, and a bag of tricks. Kenny Chery brings both to the table, and then some.
In his bag, you can find a potent mid-range game, the ability to create space, yo-yo ball handling [to get anywhere on the floor] and a great feel for the game.
I remember him as being a primary scorer during his Quebec days. However, Osse explained that Chery plays within the flow of the game, scoring when needed and distributing when teammates have it going.
True.
Prior to Baylor, Chery was at State Fair JUCO where assistant coach Josh Sash spent a lot of time with the Quebec contingent.
"I think Kenny came into our place as a scoring guard. I think he continued to learn and develop as a PG in our system where he had some other good guards around him and was given a lot of freedom offensively," Sash told NPH.
"I think the biggest thing he took from State Fair was our strength, conditioning and agility program that we use with our guys. He took it and ran. He changed his body and the way he moved."
Chery's agility on the floor speaks volumes as he is able to consistently find the cracks and attack them with fluidity.
"He has great work ethic, great character, and a coachable, humble approach. He earned this by how hard he worked," exclaimed Sash.
Chery's continued success will only make Team Canada's senior team selection process that much tougher–as if it wasn't already with the plethora of surging lead guards (Cory Joseph, Tyler Ennis, Olivier Hanlan, Kevin Pangos, Phil Scrubb, etc).
As if Brady Heslip's production for Baylor wasn't entertaining enough if you're a Canadian basketball observer.
Kenny is the Chery on top.