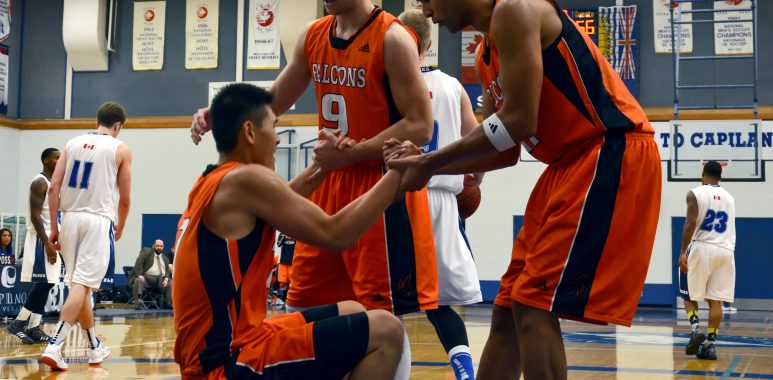 PacWest Week 5 Power Rankings – A New #1 Emerges
Only one change in this week's Power Rankings, but it's a major one.
VIU, who held the number-one spot in the rankings for the first four weeks of the season, has dropped to the number-two spot, trading places with Langara after the Falcons beat the Mariners 102-85 at home in Vancouver on Saturday.
VIU didn't look as strong as usual against Douglas the night before, escaping with an 83-79 win, and then had a lot of trouble trying to keep up with the surging Falcons the following afternoon.
Langara has been on a terror since shedding their only loss to Quest in week two. The Falcons have eclipsed the 100-point mark in each of their last five bouts, and in six of eight total games so far this season.
"I would say we're right on track. We're just now figuring out how to use our bench effectively," said Langara's head coach Paul Eberhardt. "We had a much better idea how to use our bench last year than this year, but we're starting to get good rotations and guys are figuring out how to play with each other. I'm happy where we're at, but we still have a long way to go."
Quest remains a close third after going 2-0 over the weekend with an 80-61 win over CBC followed by a 109-64 slaughter of Kwantlen. Since falling to VIU in week three, the Kermodes have won four straight games, and they're responsible for Langara's only loss – an 80-77 win at home in week two.
Capilano, like Quest, swept their home games against both CBC and Kwantlen, and head into the winter break with a much-needed boost of momentum.
Douglas split a pair of games while playing host to both island squads. If they had beaten VIU – which they were very close to doing on Friday night – it probably would have moved them ahead of Capilano and then dropped the Mariners to third.
The Royals are very close to making the leap away from the Dungeon of Losing Records, and joining the Blues in the Middle of Mediocrity, but that can't be said about the permanent Dungeon members: CBC, Camosun and Douglas.
I guess the fact that no one in the Dungeon is winless is a small (very small) positive. But that means even less, considering that each of their wins has come from beating one another. I feel like the parent that lets their kid stick a participant ribbon on the fridge.
Hey, at least the race in February for the final playoff spot will be exciting though, right? Right..?
Regardless, the upper-level talent in the PacWest leaves a lot to be desired in the New Year, as onlookers will eagerly await for one squad to emerge as the outright alpha dog.
I think Langara garners that title right now just for handing the defending national champs their first loss, but Quest, and especially point guard Cartiea French-Toney, are gunning for that number one spot.
And by no means does one loss detract how well VIU has played in the first semester. I have a feeling that Matt Kuzminski is going to have the Mariners playing even more aggressive defense in 2014 – if that's even physically possible.
For now, everyone is undoubtedly going to enjoy the six-week layoff.
Except for me. I'll still be rolling out a bunch of PacWest content over the break, including player rankings by position, a few individual feature profiles, a Christmas-themed PacWest team wishlist, and New Year's resolutions for each squad.
Happy studying to all the PacWest players, because all I want for Christmas is everyone to stay academically eligible.
And last but not least, here are this week's rankings:
Week 5 PacWest Power Rankings
| | | | |
| --- | --- | --- | --- |
| | Rank | Prev. Rank | Change |
| Langara Falcons (7-1) | 1 | 2 | ↑ |
| VIU Mariners (7-1) | 2 | 1 | ↓ |
| Quest Kermodes  (7-1) | 3 | 3 | – |
| Capilano Blues (4-4) | 4 | 4 | – |
| Douglas Royals (3-5) | 5 | 5 | – |
| CBC Bearcats (2-6) | 6 | 6 | – |
| Camosun Chargers (1-7) | 7 | 7 | – |
| Kwantlen Eagles (1-7) | 8 | 8 | – |