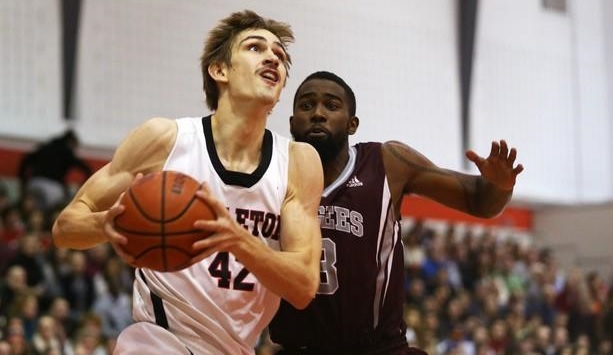 The CBG Bunch: Tyson Hinz, Kevin Bercy, Kitchener-Waterloo Freshman + more!
Welcome to the CBG Bunch, a specialized column dedicated to the CIS season. Every week, Charles Blouin-Gascon parses through the league's box scores over Sunday brunch while looking for the CBG Bunch, a group of the top performers of the weekend's action.
–
The CBG Bunch can't reward everyone every week, and this time we send roses to Javon "Young" Masters and Jarred "OJ" Ogungbemi-Jackson. The two have been mainstays in The CBG Bunch and again had strong performances this weekend. But because we don't have that many good puns, we ask that they submit another batch of strong performances when the calendar turns to 2014.
As always, quotes below are manufacured for your enjoyment, and not actual interviews.
Theon Reefer, St. Mary's Huskies at UNB Varsity Reds: 29 points, 8 rebounds, 1 steal
Theon Reefer had himself a week, first dominating the Dalhousie Tigers to the tune of 30 points in a win and then going toe-to-toe with the Young Masters himself, Javon Masters. Both of those performances came in as many as four-point games for the Huskies, because that's apparently something that the AUS does—four-point games. Reefer is averaging 19 points per game and has scored at least 10 points in all six games that he played this season. He's an unapologetic gunner, and that's good because the CIS needs some of them.
But Masters had the last laugh, outscoring the second-year Reefer and winning the game, because one does not simply go into the Young Masters' House and walk away with a win.
Jack Simmons, Wilfrid Laurier Golden Hawks at Waterloo Warriors: 28 points, 8 rebounds, 3 assists, 2 steals, 1 block
Jack Simmons stepped on the floor against the Warriors and he was feeling it. In a span of 57 seconds in the first quarter, the rookie scored back-to-back-to-back baskets for the Golden Hawks on his way to the first 20-plus-point-game of his young career. "I had over a point a minute," he said, showing everyone that good math he's learned in Business classes, after having scored 28 in 27 minutes of action. The following night, the forward had another strong showing against Guelph in a win. "I can get used to this!" he said. "What's practice when you can score?
A veteran interrupted Simmons just there. "Rook' how about you practice ordering me some waffle fries for the next 20 days?" That's the next step in Simmons's game. Now that he's started to score like the veterans, he needs to learn how to talk like them.
Dani Elgadi, Brock Badgers at Western Mustangs: 26 points, 11 rebounds, 1 steal, 4 blocks
Freshman Dani Elgadi led the Brock Badgers to their first two wins this season, with two double-doubles against Western and Waterloo. Against the Mustangs, Elgadi badgered his way to no less than 26 points, including no less than 13 in the final quarter. "That's the number on the back of my jersey, you know? I have to stay true to it," he said. When we asked why he couldn't score 52 points for the game (i.e. 13 points for each quarter), Elgadi had a ready-made answer. "The fourth is where the special players do special things." Scoring 52 seems plenty special to us.
Owen Klassen, Acadia Axemen VS St. Francis Xavier X-Men: 25 points, 15 rebounds, 2 assists, 2 steals, 5 blocks
Klassen played only his fourth game this season, and the big man continued to show that he may well be in a klass (yikes) by himself. He's averaging a double-double with 23.8 points and 10.5 rebounds per game—and that point-per-game average could be higher if not for his first game against Dalhousie, when he poured in only 12. Klassen has apparently come back with a purpose this season for his fifth and final CIS season. That purpose is apparently that he has dug up the hatch—er, axe for the poor souls of opposing frontcourt players. I once cut my finger pretty badly being on the receiving end of a saw, and I suspect it hurts just the same with an axe.
Tyson Hinz, Carleton Ravens VS Ottawa Gee-Gees: 32 points, 9 rebounds, 3 assists, 2 steals, 2 blocks
After a year where the Gee-Gees came this close not once, not twice but thrice of beating their cross-town rivals, who also happen to have been supreme rulers of this CIS world, they were bound for a letdown. In the Ravens' Nest, it's Tyson Hinz who made sure the Ottawa faithful wouldn't have anything to write home to their mom about. The big man dominated the Ottawa frontline to the tune of 32 and 9, and he added steals and blocks as well for good measure. As usual, the Heinz Master is hitting the majority of his shots (i.e. 61.2 per cent), but there's a difference this year. He's taking—and hitting!—three-pointers. If he keeps at it, we might as well ship the W.P. McGee Trophy to Ottawa, where, well, the CIS Final 8 is already held anyway.
Mitch Goodwin, UBC Okanagan Heat VS UNBC Timberwolves: 27 points, 7 rebounds, 2 assists
The Heat are no longer winless after a pair of wins over the UNBC Timberwolves this past weekend, and the first came on the back of a career-high 27 points from second-year Mitch Goodwin. Head coach Pete Guarasci, also in his second season, was gleeful after the game. "Let me tell you something," he told NPH, "there's a reason why I'm happy he's with us. That first win clearly came from my guy with the No. 1 jersey." When the NPH reporter told him that he could do better than this one, he had another. "Let me say this," he said. "That was a good win. And it came because of Goodwin."
Ouch. Our soul hurts.
Alex Hill, Toronto Varsity Blues at Ryerson Rams: 35 points, 4 rebounds, 3 assists
Tip-off for this cross-town match-up was scheduled for 4 p.m., about four hours earlier than what OUA teams are used to for Saturday games—but the Alex Hill offensive onslaught was right on time. The fifth-year player, now third in the CIS with 26.6 points per game, carried his Varsity Blues team on his back, and it's in the first quarter where he impressed the most. In the opening 10 minutes, Alex "Kill" Hill went for the kill and hit five of seven shots on his way to 16 points. He finished with 35 for the game and drained five of 11 three-pointers, many of which came from somewhere in Markham (i.e. the game was in downtown Toronto). Hill is the embodiment of "Hand Down, Man Down"—it's Marc Jackson who would be proud.
Deontay Smith, UPEI Panthers at St. Francis Xavier X-Men: 30 points, 6 rebounds, 5 assists, 1 steal, 1 block
Deontay "Magneto" Smith is following a rookie season where he beat out every other Canadian rookie to be named the CIS rookie of the year with what is shaping up to be a pretty good encore. Against the X-Men, that meant scoring, rebounding, dishing out assists and playing no less than 44 minutes in this instant, double-overtime classic. The ball follows Smith, as if he's magnetic. (HA!) But the second-year Panther fell on the short end of this game, proving that he's truly Magneto to the St.FX's X-Men—the villain always loses in Marvel Comics.
It's too bad, really, that basketball must absolutely conclude with one winner and one loser, because both UPEI and St.FX probably deserved to win this one. A tie may feel like kissing your sister on the cheek, but sometimes that's still better than no kiss at all.
Kevin Bercy, St. Francis Xavier X-Men VS UPEI Panthers: 27 points, 19 rebounds, 1 assist, 1 steal
If Deontay "Magneto" Smith lost against the X-Men, he can thank Kevin Bercy. (Well, he would never thank him for the loss, but you get my point). The young rookie was dominant, grabbing a god-like 19 rebounds in St.FX's win. Nineteen rebounds, it turns out, is a little like, oh, I don't know, $14 864 274 274—sure, we are aware that the number exists, but it's completely foreign to every fiber of our being.
After the game, Bercy spoke with NPH and revealed that he could have played even better if not for a running nose and a cold. "I was playing and the Panthers called bercy," he said. "They couldn't stop me. They were hurting and called bercy. But there's no bercy in basketball, only in real life."
Kevon Parchment, UFV Cascades VS UBC Thunderbirds: 26 points, 15 rebounds, 1 assist, 4 steals
A long, long time ago, in a land very, very far away, a wise man once wrote the old scriptures. And these scriptures were passed on from generation to generation, until a few hundreds of years before our time when a young man saw the scriptures. "Look at the parchment," he told his father. "The scriptures are here." The young man read the parchment, and he said that it said that at some point in the new millennium there would be a fellow young man who would leave the bright lights of the big city to move west, near the ocean where he could swim amid the cascades. And that young man soon became a third-year combo guard, leading his team to an even .500 record through 10 games with a good mix of scoring and rebounding. The scriptures said that this young man wouldn't take lightly that the preppy UBC boys thought their campus looked better, and that he would answer in kind.
The young man didn't understand everything that the scriptures said, but no one did. His father told him that, "Son, the scriptures never lie. We must listen to what the parchment has to tell us." And the young man would nod and agree with this father, and he decided that he too wanted to move west as soon as he was of age. The name of this young man was Christopher. His last name was Columbus.
Follow Charles Blouin-Gascon on Twitter @RealCBG & NPH @Northpolehoops